Ma's new appointments an example of 'inbreeding'
The latest reshuffle of top officials in charge of US and China affairs was another example of "inbreeding" in the administration of President Ma Ying-jeou (馬英九), the opposition said yesterday, adding that the inexperienced officials' ability to handle external relations was questionable.
National Security Council adviser Wang Yu-chi (王郁琦) and former Chinese Nationalist Party (KMT) secretary-general King Pu-tsung (金溥聰) were tapped for the jobs because of their close relationship with Ma, not for their experience and expertise, the Democratic Progressive Party (DPP) and the Taiwan Solidarity Union (TSU) said.
In a partial Cabinet reshuffle announced on Wednesday, Wang will take over as Mainland Affairs Council minister, while King will become Taiwan's -representative to the US.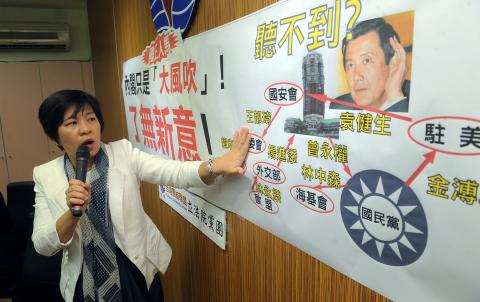 Taiwan Solidarity Union caucus whip Huang Wen-ling speaks during a press conference at the Legislative Yuan yesterday, criticizing President Ma Ying-jeou for appointing people exclusively from his own inner circle to major positions, irrespective of whether they are qualified.
Photo: Lo Pei-der, Taipei Times
"It was definitely surprising," DPP Policy Research Committee executive director Joseph Wu (吳釗燮) — who held both positions under the former DPP administration — said in response to a media inquiry about the reshuffle.
Wu served as council chairman between 2004 and 2007 and representative to the US between 2007 and 2008.
He said inexperience would be the primary concern for the two in handling Taiwan's most important external relations.
King is not a professional diplomat, the criteria Ma had set for diplomatic appointments when he was inaugurated in 2008, Wu said, adding that King also lacked the coordination and communication skills that would be crucial in dealing with US government agencies, the US Congress and the overseas Taiwanese community.
Incoming minister of foreign affairs David Lin (林永樂), who replaced Timothy Yang (楊進添), will likely be sandwiched between King and new National Security Council secretary-general Jason Yuan (袁健生), both known for their aggressiveness, Wu said.
The appointment of Wang, along with Lin Join-sane (林中森) as Straits Exchange Foundation chairman, means that Taiwan will face complicated cross-strait affairs and negotiations with a pair of officials who have no previous experience on China, he said.
"They are not familiar with Chinese affairs or the Chinese officials they have to deal with. And vice versa ... It is a huge risk," Wu said.
Naming his confidants to the positions signaled Ma's intention to gain "complete control" over cross-strait affairs and foreign relations, DPP caucus whip Ker Chien-ming (柯建銘) said.
"Most of all, it could be the prelude to Ma's pursuit of a peace agreement with China as part of his presidential legacy, which would be a dangerous move that could jeopardize Taiwan's sovereignty," Ker said.
The DPP has launched a campaign calling for a complete reshuffle of the Cabinet to "save Taiwan's economy," ahead of tomorrow's vote of no confidence against the Cabinet in the legislature.
TSU caucus whip Huang Wen-ling (黃文玲) said the appointments once again shows that Ma makes personnel decisions "inside his inner circle" of trusted aides who share his ideology.
The TSU said that Minister of Economic Affairs Shih Yen-hsiang (施顏祥), Council for Economic Planning and Development Minister Yiin Chii-ming (尹啟銘) and Council of Labor Affairs Minister Jennifer Wang (王如玄) should be replaced for their poor performance.
Comments will be moderated. Keep comments relevant to the article. Remarks containing abusive and obscene language, personal attacks of any kind or promotion will be removed and the user banned. Final decision will be at the discretion of the Taipei Times.