KMT member blasts Ma over party asset issue
A member of the Chinese Nationalist Party's (KMT) Central Standing Committee (CSC) yesterday lashed out at President Ma Ying-jeou (馬英九) for failing to explain to the party's top decisionmaking body how the party plans to deal with its assets.
The issue of the KMT's assets — which critics describe as "ill-gotten" wealth — has come to the fore again after the Executive Yuan passed a draft political party act last month. The draft stipulates that political parties should not operate or invest in profit-making enterprises and must transfer ownership of or sell off shares in enterprises within two years, or failing that, place them in a trust.
The KMT, which has promised to get rid of its remaining asset — the Central Investment Co — and place the profits in a public trust, has yet to complete the process.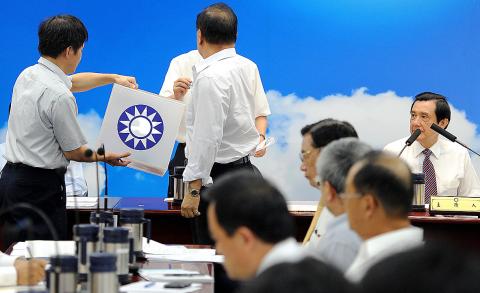 Members of the Chinese Nationalist Party's (KMT) Central Standing Committee draw lots to decide who can speak at the party's weekly meeting yesterday.
Photo: Chu Pei-hsiung, Taipei Times
Central Standing Committee member Lee Chuan-chiao (李全教) yesterday accused Ma and the party of conducting under-the-table deals in handling the party's assets and called on concerned officials to present a report on the latest developments to the committee.
"The KMT should handle its assets in an open and transparent manner, and any plans to solve the asset issue must be reviewed and approved by the committee. There should be no under-the-table operations," he said before the committee meeting at KMT headquarters.
Lee complained that the party has never updated information on the handling of party assets to the committee in the past five years, adding that Ma and the party had failed to live up to their promises of facilitating party reform and addressing the party assets issue.
"If Chairman Ma and the KMT meant to proceed with party reform, they should start by making the process of handling party assets transparent," he said.
He also called on the party to stop limiting committee members' right to respond or give advice during the weekly meeting. The party sets a limit on the time and the number of committee members who wish to speak at the two-hour meeting.
KMT spokesman Yin Wei (殷瑋) said later that the party is preparing for a report on the process of its handling of party assets, and will explain the situation to the committee as soon as possible.
Ma has instructed KMT Vice Chairman Chan Chun-po (詹春柏) to form a task force on KMT assets and discuss the issue in the CSC soon, Yin said.
Comments will be moderated. Keep comments relevant to the article. Remarks containing abusive and obscene language, personal attacks of any kind or promotion will be removed and the user banned. Final decision will be at the discretion of the Taipei Times.