Taiwan must understand China: Lung
Taiwan is like a tiny motorboat while China is a huge aircraft carrier, Minister of Culture Lung Ying-tai (龍應台) told an audience in Washington on Tuesday.
"We need to be cautious, we need wisdom ... to avoid a collision. Communication is essential and I call for empathy on both sides of the Strait," she said during a talk at George Washington University during an event cosponsored by the Brookings Institution.
Lung said China was the product of half a century of upheaval and that its government had "a lot of catching-up to do."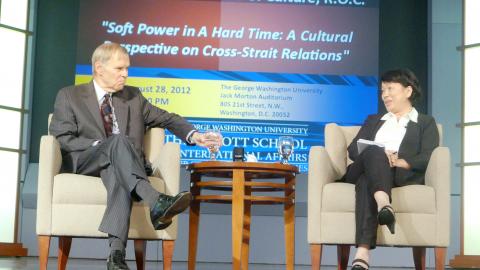 Minister of Culture Lung Ying-tai, right, speaks with former American Institute in Taiwan chairman Richard Bush in Washington during a talk she gave at George Washington University on Tuesday.
Photo: CNA
Taiwan needed to be patient and give the aircraft carrier time to turn around, she said.
Lung added that China had to understand that Taiwanese need freedom to "write what we think, paint what we see, sing [about] what moves us, tolerate those who disagree, protect those who are unjustly persecuted and reject leaders we mistrust."
Lung has been in New York and will visit Canada later in the week.
Her talk was titled "Soft Power in a Hard Time: A Cultural Perspective on Cross-Strait Relations."
She said that as the idea of soft power grows, emphasis should be placed on the word "soft" rather than on "power."
Lung said that exercising soft power meant being "genuinely and honestly 'soft' when dealing with people outside and inside your territory."
She defined this softness as "listening to the whimper of the weak, seeing the tears of those who suffer and hearing the suppressed cry of protest."
However, Lung was reluctant to get into details about certain issues.
She refused to answer — or carefully avoided — questions about China policies, about the growing Chinese influence on the Taiwanese media or about the role of former president Chiang Kai-shek (蔣介石) during the White Terror era.
Pressed on the media issue, she said: "I don't think I should delve into domestic issues in Taiwan. I think Taiwanese have a difficult problem: Can we draw a line between getting healthy influences from China, and [protecting] our national security?"
"Figuring out how to draw that line takes a lot of wisdom," she added.
One student responded to Lung, saying "Chiang's role during the White Terror era is not an ideological issue, it is an historical fact."
He asked how Lung not blaming Chiang was different from those who denied that the White Terror happened.
Lung answered that the Taiwan Human Rights Museum — under the control of her ministry — was currently collecting testimony from victims of the White Terror era.
She said the museum's budget had recently been awarded and she had decided that the most urgent thing on the agenda was collecting the testimony of White Terror survivors while they were still alive.
Asked about Taiwanese Aborigines, she said they were "very much marginalized," despite major government efforts to help them.
She said that she was shocked that Aborigines had a significantly shorter life expectancy than other Taiwanese.
Lung said Confucius had become the standard-bearer of Chinese soft power and that no place was more Confucian than Taiwan.
China's Confucius Institutes, she said, were an attempt to reconnect with the nation's roots.
"After half a century of vilification, old values are being relearned," Lung said.
The Taiwan Academy, she said, should not compete with the Confucian Institutes.
"China is so big, so ancient, so grand and resilient … and we dare to hope that China some day will become a [more] civilized as well as a civil society," Lung said.
One audience member said that she sounded almost as if she was a minister from China.
Lung replied that if that was true she would be in "deep trouble" when she returned to Taiwan.
"But we can't just demonize China as a threat," she said.
Even if China is the enemy, Taiwan has to understand China in order to deal with it, she said.
Comments will be moderated. Keep comments relevant to the article. Remarks containing abusive and obscene language, personal attacks of any kind or promotion will be removed and the user banned. Final decision will be at the discretion of the Taipei Times.