US beef is political hostage: AIT boss
NOT GOOD: The US beef issue has become 'the symbolic embodiment of Taiwan's protected markets,' according to American Institute in Taiwan Director William Stanton
American Institute in Taiwan (AIT) Director William Stanton yesterday described the ongoing controversy over imports of US beef with ractopamine residues as a "hostage to domestic political battle" in the legislature as he warned Taiwanese politicians about possible repercussions for US-Taiwan relations and Taiwan's bid to join in regional economic integration.
In a speech delivered at a lunch hosted by the American Chamber of Commerce in Taipei, Stanton highlighted the importance of Taiwan's policy on residue in beef of the leanness-enhancing drug ractopamine to US-Taiwan relations.
President Ma Ying-jeou's (馬英九) administration proposed conditionally relaxing the ban after his re-election in the hopes that it would facilitate resumption of talks between the US and Taiwan under the Trade and Investment Framework Agreement (TIFA), but the legislature recently ended its session without passing the law because of an opposition boycott.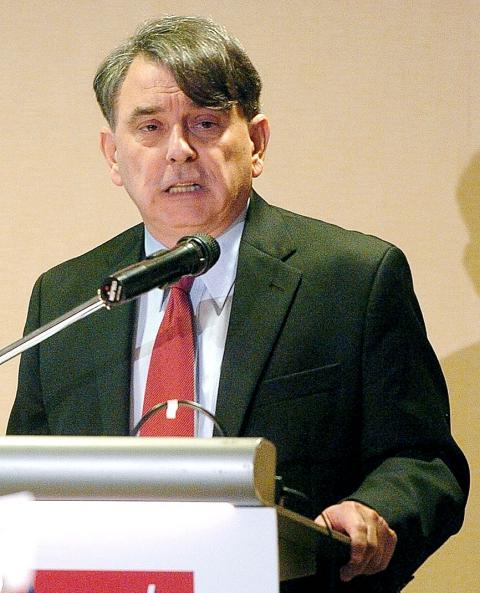 American Institute in Taiwan Director William Stanton speaks in Taipei yesterday about the ongoing controversy over imports of US beef containing ractopamine residues.
Photo: Wang Min-wei, Taipei Times
"[US] beef has now become a hostage to the domestic political battle in the Legislative Yuan, with opponents of US beef showing little regard apparently for the consequences for Taiwan's relationship with the US, and more broadly, with the rest of the trading world," Stanton said.
Stanton cast doubt on the intentions of the opposition and other critics of imports of US beef containing ractopamine residues over "fears" that such imports would lead to imports of US pork containing ractopamine residues, and for "political gains" under the pretext of a concern for food safety.
"I think some of the politicians here sometimes forget that we also have politicians in the US, and they very much read the Taiwan media. What you said about poisonous US beef is not well received there by people traditionally best friends of Taiwan," he said.
In his 35-minute speech on US-Taiwan relations as he reviewed the AIT's achievements during his tenure as director, Stanton spent nearly one-third of his time on trade issues.
Overall, the trade record between the US and Taiwan was "not bad," but there are challenges Taiwan must overcome to continue to make progress, he said.
Stanton said he is "especially mindful" of Taiwan's wish to have a free-trade agreement (FTA) with the US and to become a member of the Trans-Pacific Partnership, but to demonstrate both its commitment and its ability to achieve these ambitious and commendable goals, "Taiwan must undertake very serious reform efforts."
US beef is the issue that has become "the symbolic embodiment of Taiwan's protected markets," Stanton said, adding that many local industries in Taiwan now "enjoy a high level of protection from foreign competition."
Taiwan took gradual steps to liberalize trade as part of its accession to the WTO 10 years ago, but the problem is "it has done nothing lately" in this regard, Stanton said.
Stanton, who is set to retire at the end of next month, said that resolving the US issue was like going through a tunnel.
"There may, however, be light at the end of the tunnel. What for me has been a very long and dark tunnel," he said.
On defense issues, Stanton said Taiwan's defense budget is "deficient" and he was not optimistic that Taiwan has the ability to confidently manage cross-strait relations and to contribute to regional stability with its limited defense budget.
The US government applauded Ma's rapprochement policies for maintaining peace and stability in the Taiwan Strait, but "we firmly believe it's equally important for Taiwan to strengthen ties with our traditional friends and new friends as well," Stanton said.
Stanton added that he is "extremely confident" that Taiwan will soon enter the US Visa Waiver Program after it was nominated as a candidate for the program in December.
Stanton said that in a Taipei Times report on March 29, 2009 — before he took over as AIT director — he was described as being "excessively pro-China," while the Liberty Times (the Taipei Times' sister paper) previously had a report saying he was deemed by Beijing officials in Washington as "pro-Taiwan."
"It is true [that I am pro-Taiwan]. When I walk down the hall in the US State Department, colleagues often run in the opposite direction, because they feel that I would bang their ears about Taiwan. I have been outspoken and aggressively pursuing what I think is good for US-Taiwan relations and for the US," he said.
Comments will be moderated. Keep comments relevant to the article. Remarks containing abusive and obscene language, personal attacks of any kind or promotion will be removed and the user banned. Final decision will be at the discretion of the Taipei Times.