DPP goes to polls for chairmanship
FIVE-WAY RACE: Frontrunner Su Tseng-chang used newspaper ads to call for a show of party unity after the contest, whoever wins
The Democratic Progressive Party's (DPP) 160,000-plus registered members will vote today to determine which of five candidates will lead Taiwan's largest opposition party.
In addition to electing a new chairperson, party members will elect branch office directors as well as regional and national representatives. DPP acting chairperson Chen Chu (陳菊) yesterday urged party members to take part in the hotly contested poll.
Addressing the potentially damaging issue of whether a list of party members was recently leaked from the DPP's Taipei branch offices ahead of the elections, Chen said that party headquarters would deal with the issue seriously if there was any evidence suggesting wrongdoing.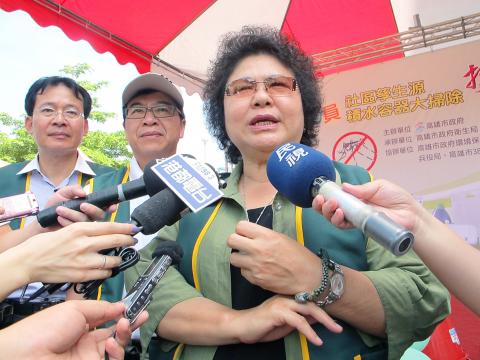 Greater Kaohsiung Mayor and acting Democratic Progressive Party chairperson Chen Chu talks to the press yesterday.
Photo: CNA
She added that DPP Secretary-General Su Jia-chyuan (蘇嘉全) has been tasked to investigate the alleged leak.
Five candidates are running for party chair: former premier Su Tseng-chang (蘇貞昌); former vice premier Wu Rong-i (吳榮義); former DPP legislator Chai Trong-rong (蔡同榮); former Tainan County commissioner Su Huan-chih (蘇煥智) and former DPP chairman Hsu Hsin-liang (許信良).
Saying the party had grown stronger and more united with every storm it had weathered in the past, Chen expressed confidence in the DPP's prospects and said she believed there would be no breakaway as a result of today's occasionally divisive election.
Su Tseng-chang, who has been the frontrunner from the outset, yesterday placed advertisements in local dailies calling for party unity. Entitled "Cooperate and Win Together," the ads said that only a unified party can gather critical social power.
The DPP faces major mayoral and commissioner elections in 2014 and then a presidential election in 2016.
"My running for election as chairperson is not for personal success, but to lead the party to success," Su said in the adverts. "Let's move together and win together."
Meanwhile, chairperson hopeful Hsu continued with his hunger strike yesterday, which he began in front of the Legislative Yuan on Monday afternoon.
Hsu begun his one-man political protest after President Ma Ying-jeou (馬英九) failed to give "positive responses" to his demands which included a freeze on fuel and electricity prices, the retention of the ban on beef imports containing residues of the feed-additive ractopamine and a pardon for former president Chen Shui-bian (陳水扁), who is serving a 17-and-a-half-year prison sentence for corruption.
The DPP chairperson election will take place from 8am to 4pm today with the results to be announced this evening.
Comments will be moderated. Keep comments relevant to the article. Remarks containing abusive and obscene language, personal attacks of any kind or promotion will be removed and the user banned. Final decision will be at the discretion of the Taipei Times.