Lee Teng-hui visits Chiayi, Tainan
'VOICE YOUR OPPOSITION': The former president said that if the government did not grant subsidies, farmers should take to the streets — and he would join them
Former president Lee Teng-hui (李登輝) yesterday began a three-day trip to agricultural areas in Chiayi and Tainan in the hope of understanding more about the sector, which used to be Taiwan's pride, but has been facing numerous challenges in recent years.
This was the 89-year-old's second trip to southern Taiwan, after a visit to Greater Kaohsiung and Pingtung County last month. He has been recovering from surgery to remove a cancerous tumor in November last year.
Lee highlighted the importance of the agricultural sector in his remarks yesterday evening to about 100 people in Jingliao Village (菁寮), Houpi District (後壁), Greater Tainan, which is known as a rice-growing area.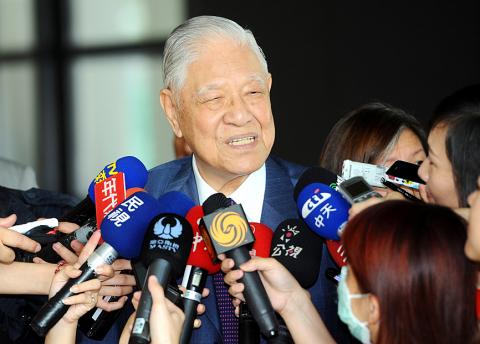 Former president Lee Teng-hui talks to reporters in Taipei on Tuesday.
Photo: Chang Chia-ming, Taipei Times
As an agriculture major at university and an agricultural official early in his political career, Lee said he has always paid special attention to the development of this important sector and reiterated that the government should stop exploiting farmers and further develop the strategically vital industry.
Agriculture cannot be developed without appropriate planning for land use and water resources, and the government should help farmers with these issues, he said, adding that the government should also encourage rice consumption.
With rising commodity prices, in particular fertilizers, farmers are entitled to demand government subsidies, Lee said.
"If the government will not grant a subsidy, you have every right to march on the streets to voice your opposition. And if you go, I will go with you," he said.
Earlier in the afternoon, the former president had a glimpse of one of the sector's star industries with a stop at Norman Orchids, an orchid farm located in Tainan Biotechnology Science Park with annual revenues of NT$200 million.
On Tuesday night, Lee gave a rare two-and-a-half-hour interview to Sanlih TV in which he addressed issues that included Taiwan's sovereignty and engagement with China, his observations on President Ma Ying-jeou (馬英九) and the domestic economic situation.
Lee reaffirmed democracy and freedom were Taiwan's "backbone" and said rhetoric about "one China" and nationalism was already "outdated".
He repeated several points he had made during his first visit to southern Taiwan last month, saying that Ma viewed himself as an "emperor" who could rule the country on his own and that he should report to the Legislative Yuan.
Lee said Beijing would not be able to annex Taiwan as the US had turned its focus back to the Asia-Pacific region, especially northeast Asia.
As for state-run companies, Lee said they should be privatized to increase their competitiveness.
Comments will be moderated. Keep comments relevant to the article. Remarks containing abusive and obscene language, personal attacks of any kind or promotion will be removed and the user banned. Final decision will be at the discretion of the Taipei Times.