Su, Wu register for DPP chief election
FIVE-HORSE RACE: Favorite Su Tseng-chang demonstrated at a press conference that he has what it takes to be president — at least in media-pulling power
Former premier Su Tseng-chang (蘇貞昌) and former vice premier Wu Rong-i (吳榮義) registered for the Democratic Progressive Party (DPP) chairperson election yesterday, with the favored lead, Su, saying he would make the DPP "a larger and better party that meets people's expectations" if he is elected.
It was also confirmed that the May 27 election would be a five-way race and the most competitive chairperson election in the party's 26-year history, after former DPP chairperson Hsu Hsin-liang (許信良) and former DPP lawmaker Chai Trong-rong (蔡同榮) both said yesterday that they would complete their registration tomorrow.
Former Tainan County commissioner Su Huan-chih (蘇煥智) was the first to register on Monday.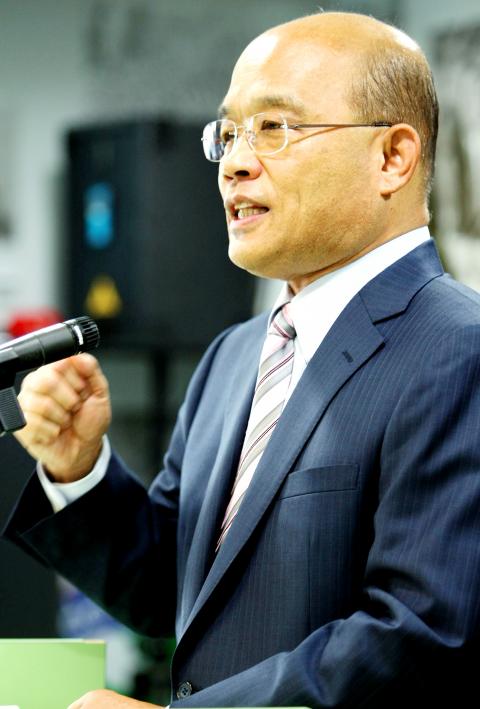 Former premier Su Tseng-chang speaks at a press conference yesterday during which he announced he had registered his candidacy for Democratic Progressive Party chairperson.
Photo: CNA
However, Su Tseng-chang is seen by analysts and party members as the strongest candidate.
His appeal could be seen during his post-registration press conference, which attracted more than 50 reporters and almost 30 camerapeople, a level of media attention usually only seen around presidential candidates.
Su Tseng-chang, 64, spoke of his strong identification with the party as one of its 18 founding members, as well as his "never-fading passion" over the past 31 years for the party and its role in improving Taiwanese politics.
Su Tseng-chang maintained his moderate position on China policy, saying that the DPP should engage Beijing actively and confidently, and that it could not afford to deal with a rapidly changing China with a rigid mindset.
"The DPP should better understand not only the present and economic aspects of China, but also the future and non-economic aspects, and understand it from the perspective of ordinary people as well," he said.
"We have to replace opposition with dialogue and seek co-existence and mutual benefits through better interaction," he added.
The seven-in-one elections in 2014 will be the biggest elections in Taiwan's history and one of the most important tasks for the next DPP chairperson, who will have to work the grassroots level diligently for fruitful results, he said.
Su Tseng-chang described President Ma Ying-jeou (馬英九) as a leader who "fails to hear the voice of the people and rules with arrogance," and said Taiwanese "expect to see a powerful DPP to check and balance the ruling party."
"That would require more than one person, one group of people or even the might the DPP possesses now," he said, adding that is why the party needs to reform and transform into an inclusive party, seeking all possible support from the young generation, previous members and local politicians.
Wu said in his post-registration press conference that participation in the election would be "the greatest glory" of his life and he would be able to help the DPP with his expertise in economics.
Hsu, the latest candidate to express an interest in running, met with former DPP chairperson Tsai Ing-wen (蔡英文) yesterday, and received Tsai's blessings and praise for his experience and innovative ideas.
Chai was set to announce his bid at a press conference today.
Comments will be moderated. Keep comments relevant to the article. Remarks containing abusive and obscene language, personal attacks of any kind or promotion will be removed and the user banned. Final decision will be at the discretion of the Taipei Times.