FEATURE: A-tsai's restaurant to be razed by renewal project
Once a popular gathering spot for former members of the dangwai (黨外, outside the party) and student movement, A-tsai's restaurant (阿才的店), located at the crossroads of Jinshan S Road and Renai Road in Taipei City, is soon going to close down permanently or relocate as a result of an urban renewal project, according to A-hua (阿華), the store's owner.
The term dangwai refers to individuals who participated in politics, but were not members of the Chinese Nationalist Party (KMT) in the period before the formation of the Democratic Progressive Party (DPP) in 1986.
The student movement refers to the Wild Lilies Student Movement (野百合學運) in 1990, when over 6,000 students gathered in front of the Chiang Kai-shek Memorial Hall to protest the National Assembly's decision to grant its members a nine-year extension in office despite never having been elected in the 40 years since the Republic of China (ROC) government arrived in Taiwan.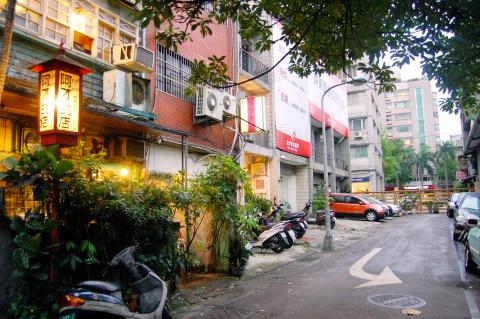 A fence blocks one end of Lane 41, Renai Road Sec 2 in Taipei yesterday. The historic student movement hangout A-tsai's restaurant, left, and other buildings on the privately owned lane are slated for demolition in an urban renewal project.
Photo: Chiu Shao-wen, Taipei Times
A-hua opened the restaurant in 1987 and has been there ever since. It was five to six years ago that construction firms started making inquiries about possible urban renewal projects.
"I took those construction companies to court over the urban renewal project, but I lost the case," he said
However, the judge ruled that the construction firms should notify him six months prior to the beginning of demolition work even though he was just a tenant.
"I have not received notification yet," he said.
However, the road has been blocked and a banner hangs from one of the empty homes near the restaurant indicating that the area is due to be demolished for an urban renewal project
A-hua says that this has not only infringed on people's right of way, but has also hurt his business because many of his customers thought he had closed.
Meanwhile, many former members of the Wild Lilies Student Movement and dangwai movement expressed sadness at the restaurant's fate.
Former Governmental Information Office minister Cheng Wen-tsang (鄭文燦) said "A-tsai's restaurant holds many memories."
Shen Fa-hui (沈發惠), another member of the student movement and now a New Taipei City DPP councilor, said there were very few stores or restaurants like the vintage atmosphere and decor of A-tsai's, adding that even though many restaurants had attempted to capture the feeling, A-tsai's was still the only one with that authentic feel
"During the student movement, if you wanted to have a drink, but you couldn't find anybody to drink with, A-tsai's was the place to go, because you were bound to meet someone you knew there," Shen said, adding that "A-tsai's was a location that held the memories of an entire generation, and if it [the store] just disappears, it would leave behind many regrets."
DPP Legislator Chen Chi-mai (陳其邁) said A-tsai's was the equivalent of the "holy land of democracy" and even now many who took part in the Wild Lilies Student Movement still get together there from time to time.
Urban renewal projects should benefit the public, but even before the project gets under way, the construction companies are closing off the roads and -undermining the public interest, Chen said, adding that such an approach was "little different to that of a local thug."
"I would be very sad if A-tsai's just vanished," he said.
DPP Legislator Cheng Li-chiun (鄭麗君), who also took part in the Wild Lilies Student Movement, recalled that those who gathered at A-tsai's usually discussed the student movement itself and revolutionary ideas.
"The restaurant, for these people, represents 'years of youth and rebellion,'" she said.
As to the issue of urban renewal projects, Cheng said far more factors should be taken into consideration before they are approved.
They should seek to "rebuild" the city, she said,, adding that the "historical, sentimental, and cultural value" of existing buildings should also be taken into consideration.
"It would be hard to preserve the original atmosphere of A-tsai's restaurant even if it relocated," she added.
Translated by Jake Chung, Staff Writer
Comments will be moderated. Keep comments relevant to the article. Remarks containing abusive and obscene language, personal attacks of any kind or promotion will be removed and the user banned. Final decision will be at the discretion of the Taipei Times.