Public rejects 'one country, two areas'
PANNED BY POLL: A survey this week showed about 60 percent of people rejected the 'one country, two areas' formulation put forward by Wu Poh-hsiung
The Democratic Progressive Party (DPP) yesterday reiterated its demand for President Ma Ying-jeou (馬英九) to apologize for the ruling party's "one country, two areas (一國兩區)" proposal after nearly 60 percent of the respondents in an opinion poll said they disagreed with the initiative.
The survey, conducted by the DPP on Monday and Tuesday, polled respondents for their views on the controversial proposal, which was touted by former Chinese Nationalist Party (KMT) chairman Wu Poh-hsiung (吳伯雄) during his meeting with Chinese President Hu Jintao (胡錦濤) on March 22 in Beijing.
The poll found that 59.7 percent of the respondents disagreed with the proposal; with 89 percent of people who identified themselves as pan-green supporters and 59 percent of people who identified themselves as independent voters saying "no" to Ma's proposal, DPP spokesperson Lin Chun-hsien (林俊憲) told a press conference. More than half of respondents who identified themselves as pan-blue supporters, or 55 percent, said they accepted the proposal, the poll showed.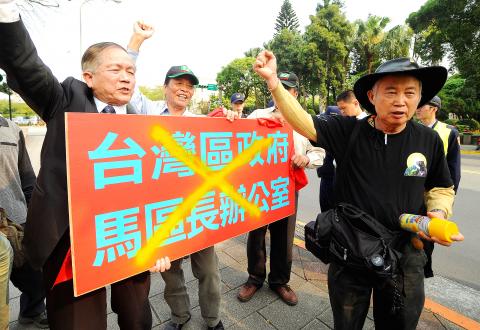 Taiwan Republic Campaign founder Peter Wang, right, accompanied by members of the organization, protest outside the Presidential Office in Taipei yesterday about the "one country, two areas" proposal. Wang spray-painted a cross over the message on the sign, which says: "Taiwan Area Government, Area Governor Ma."
Photo: Liu Hsin-de, Taipei Times
In the poll, 77.9 percent of respondents said Taiwan and China are not the same country, with 66 percent of pan-blue supporters saying both sides of the Strait are independent countries.
"With these results, we demand President Ma apologize for this unpopular proposal and withdraw it," Lin said.
While Ma said in a statement that the "one country" represents the Republic of China (ROC), 68.3 percent of the people participating in the poll said the international community interprets the "one country" as the People's Republic of China (PRC).
The survey results and the comments of China's Taiwan Affairs Office spokesperson Yang Yi (楊毅) on Wednesday, which only mentioned "one China" and did not make reference to Ma's proposal, showed that the initiative was neither accepted by Taiwanese nor by Beijing, Lin said.
"We have had a hard time figuring out why Ma decided to submit the proposal, which created internal division and did Taiwan no good at all," he said.
"Judging from recent controversies over US beef imports and the 'one country' proposal, it seems to us that President Ma always chooses to stand on the opposite side to public opinion," he added.
Lo Chih-cheng (羅致政), another DPP spokesperson, said Taiwanese, regardless of their political preferences, appeared to be reaching a consensus on the status of the country, with 67.3 percent of the respondents saying they do not agree with Hu's recent comment that Taiwan and the PRC belong to "one China" and there is no separation in China's territory and sovereignty.
In the poll, 81.2 percent of respondents agreed that Taiwan is a sovereign country and any change of the "status quo" would require a national referendum, which matches the DPP's longstanding position of its resolution on Taiwan's future in 1999, Lo said.
The survey collected 1,333 samples and had a margin of error of 2.73 percent.
In response, KMT spokesman Yin Wei (殷瑋) yesterday dismissed the DPP's latest poll as another attempt to manipulate the issue.
"We regret the DPP continued to distort President Ma's stance, which is to develop cross-strait relations consistent with the constitutional structure, and that structure hasn't changed for the last 20 years," Yin said.
Yin also shrugged off the DPP's demand that Ma apologize, challenging the DPP to first demand an apology from former DPP chairperson Tsai Ing-wen (蔡英文).
"Tsai, during her term as Mainland Affairs Council chairperson, proposed a similar 'one country, four areas,' approach in handling cross-strait relations, and if the DPP challenged such a concept, why don't they ask Tsai to apologize as well?" he asked.
Wu, who returned from his China trip late on Wednesday night, defended his comments and reiterated that the "one country, two areas" concept referred to "Taiwan and mainland China under one country, which is the ROC."
While Ma has clarified the concept on several occasions, he did so only through the Presidential Office and the KMT. At the KMT's Central Standing Committee on Wednesday, Ma said the "one country" refers to "the ROC," adding that such an idea had been put forward before by Tsai and by Taiwan Solidarity Union chairman Huang Kun-huei (黃昆輝).
Both Tsai and Huang, in response, said on Wednesday that the concept was intended at the time to explain domestic laws governing interaction among people from Taiwan, China, Hong Kong and Macao, and that nowhere did it pertain to cross-strait political relations.
Additional reporting by Mo Yan-chih
Comments will be moderated. Keep comments relevant to the article. Remarks containing abusive and obscene language, personal attacks of any kind or promotion will be removed and the user banned. Final decision will be at the discretion of the Taipei Times.