Ma vows to focus on wealth gap
REFORMS: Ma promised to make people with higher incomes pay more taxes while on a visit to Hsinchu, Miaoli and Taipei to thank campaign staff for getting him re-elected
President Ma Ying-jeou (馬英九) yesterday promised to facilitate reforms and focus his attention during his second term on narrowing the wealth gap.
Ma, who doubles as Chinese Nationalist Party (KMT) chairman, also called for continuous consolidation of the Chinese Nationalist Party's (KMT) bases of support as he visited pan-blue strongholds, including Hsinchu, Miaoli and Taipei, to thank campaign staff for their efforts during his presidential election campaign.
Accompanied by vice -president-elect Wu Den-yih (吳敦義), Ma bowed and thanked campaign staff during his visit to Hsinchu City, and said that while he won re-election, he and the KMT would not stop examining their performances and making any necessary improvements.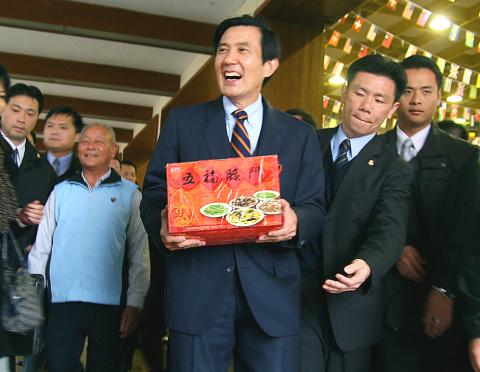 President Ma Ying-jeou holds a box containing a traditional Hakka dish presented to him by Weisin Borough Warden Tang Chin-tsai, back, in blue vest, in Miaoli yesterday.
Photo: CNA
"I've been reflecting on our performance in January's elections and we must strengthen the areas in which we did not do good enough … We will not win the people's continuous support unless we work harder and move forward with humility," he said at the KMT's Hsinchu City office.
He promised to devote himself during his second term to pushing for more reforms, stressing the need to address economic inequality as a priority amid government measures to achieve social justice and revive the economy.
"Having received another four-year term from the people, I will push forward reforms and transform Taiwan for the better … In particular, we must narrow the wealth gap and have those who have bigger incomes pay more taxes," he said.
Ma won the presidential election on Jan. 14 with 51.6 percent of the vote, while his main rival, Democratic Progressive Party Chairperson Tsai Ing-wen (蔡英文), received 45.63 percent of the vote.
Although Ma won, the total number of votes he received dropped by more than 767,000, from 7,658,724 in 2008, when he received 58.45 percent of the vote.
Ma yesterday expressed gratitude for the solid support he received in Hsinchu, Maioli and Taipei, and said he expected party staff in the three cities to use their campaign experience to prepare for the elections two years from now.
Comments will be moderated. Keep comments relevant to the article. Remarks containing abusive and obscene language, personal attacks of any kind or promotion will be removed and the user banned. Final decision will be at the discretion of the Taipei Times.