Experts tout 'green reading' at fair
Experts from Taiwan and abroad voiced support for the Taipei International Book Exhibition's theme of "green reading," calling on the public to reflect on environmental issues and learn from the young about future lifestyles.
Gunter Pauli, founder of the Japan-based Zero Emissions Research Initiative, said on Tuesday that he was happy to come to Taipei to do "green reading" for children and adults at the fair, which started yesterday at the Taipei World Trade Center and will run until Monday.
Pauli, who was named one of the 10 Outstanding Young Persons of the World in 1983, is the author of a set of fables for children that cover more than 1,000 scientific subjects. His fables are aimed at helping children and young adults develop their emotional intelligence, eco-literacy and creative capacities, while learning science.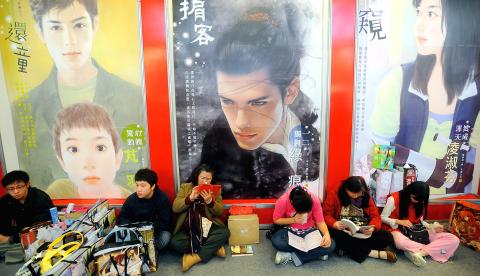 People sit on the ground reading manga they purchased at the Taipei International Book Exhibition yesterday.
Photo: Lin Cheng-kung, Taipei Times
"They [people] say children are the future. They're wrong. Children are the present. We are the past," Pauli said.
"[To change the world], children need to teach their parents the new things they find out thanks to their creativity and fantasy," he said.
Noted Taiwanese literary figure Huang Chun-ming (黃春明) said the aim of "green reading" is to rebuild "the ethics of the environment" and a sense of respect for nature.
He said Taiwan spends too much money on activities such as fireworks displays and lantern festivals, which "leaves behind little impact and is harmful to the environment."
Money should be spent on more meaningful events like book fairs, he said.
The 76-year-old writer encouraged adults to tell stories to their children instead of forcing knowledge on them.
"We often say do this, do that, but we don't tell them how fun it is," he said.
Another feature of the main pavilion at the fair is a rare collection of 53 ancient Chinese books and documents from the Ming Dynasty, seven of which are the only copies left in the world.
"It is the first time these ancient documents are being displayed outside the National Central Library," library director-general Tseng Shu-hsien (曾淑賢) said.
The ancient works reveal the leisure time of Ming Dynasty academics, their taste for literature, emphasis on health and respect for nature, Tseng said, adding that "this was very close to the contemporary concept of green living."
Other items on display at the pavilion include handmade books and the photography of French artist Claire Xuan, a Torah scroll, the photography of Italian artist Massimo Listri and various books on green living.
Comments will be moderated. Keep comments relevant to the article. Remarks containing abusive and obscene language, personal attacks of any kind or promotion will be removed and the user banned. Final decision will be at the discretion of the Taipei Times.