NUTN left 'embarrassed' over student's sense of humor
LOSING FACE: A student who filled out an absence form saying he had been abducted by aliens was lectured by the school on things in life that could not be joked about
National University of Tainan (NUTN) was left red-faced as word spread that a student had submitted a form that said he was absent from class because he had been "abducted by aliens" and that the school had approved the form.
The approved excuse form, which has since been posted online, sparked heated discussion among netizens, with some saying the incident was "cool," while others suggested the school should invite the student "to share the story of his encounter with aliens."
Commenting on the incident, the school said it was pure negligence on the part of the administrative official, who was new to the job, who carelessly clicked "approve" when reviewing the excuse form online.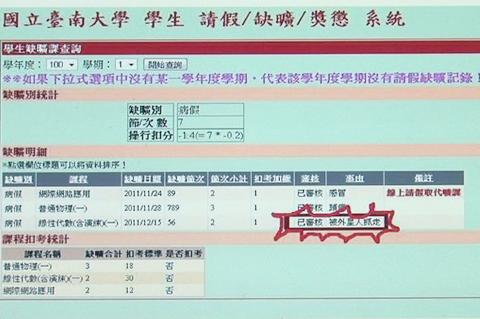 A computer screen displaying records of leave taken by students at National University of Tainan shows the details given for one person's sick leave as being "abducted by aliens." The leave application is marked "approved."
Photo: Meng Ching-tzu, Taipei Times
According to the school, the form was filled out by a freshman on Friday for a day he missed two days earlier. For fun, the student put down "abducted by aliens" as his excuse, the school said, adding that the student, after learning the incident had grown into a much-talked-about story, has offered an apology to his professor for causing such a ruckus online.
The school said that the administrative official who made the error would not be punished, though an oral reprimand has been issued. The student has also been advised that "there are certain things that should not be joked about," the school added.
While some students at NUTN found the incident ridiculous, some revealed there had been a previous incident where a student put down that she was suffering from "Princess Syndrome" (公主病) as a reason for her absence from class. That form was later rejected by an administrative official.
"Princess Syndrome" is a popular slang in Taiwan used to describe girls who regard themselves as princesses and who avoid doing anything that requires hard work and responsibility.
Comments will be moderated. Keep comments relevant to the article. Remarks containing abusive and obscene language, personal attacks of any kind or promotion will be removed and the user banned. Final decision will be at the discretion of the Taipei Times.