2012 ELECTIONS: KMT has nothing to offer: Tsai
DEPLETED: Tsai Ing-wen said the administration had shown itself to be incapable of dealing with the changing global economic situation, and more people felt poorer by the day
Democratic Progressive Party (DPP) presidential candidate Tsai Ing-wen (蔡英文) yesterday said the Chinese Nationalist Party (KMT) has continued to try to sully her and her party's image because the government has no achievements to boast about.
"In the presidential and vice presidential candidates' debates held in the past two weeks, the [KMT] had no achievement to talk about and was also unable to offer solutions to the difficulties Taiwan is facing at present," Tsai told a campaign rally in Greater Taichung.
"As such, it only has smear tactics left for the campaign," she said. "It has tried to pass off all responsibilities to the former DPP government."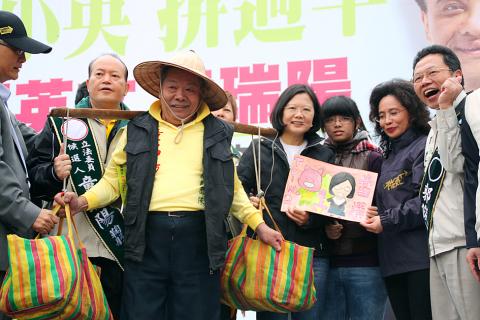 Democratic Progressive Party (DPP) presidential candidate Tsai Ing-wen, fourth right, poses with supporters on the campaign trail in Greater Taichung yesterday. The man with the carrying pole has bags full of campaign piggy banks.
Photo: CNA
"If [this] government is still living in 2008, let it stay in the past, while society moves forward into 2012 with the DPP," she said.
The government has shown itself incapable of dealing with the global economic situation, Tsai said, adding that international markets and economies were changing every second, while the government has not adopted appropriate measures to deal with those situations, leaving many of Taiwan's industries mired in crisis.
In a changing international situation, Taiwan needs a government that can effectively respond to international crises, she said.
The DPP chairperson said a growing number of Taiwanese feel they are becoming poorer.
In the past, the lower class was the poor class, but now those in the middle class feel they are becoming poor as well, she said.
The DPP's piggy bank campaign reflects unfairness and injustice in society and many people joined the movement to call for fairness and justice, Tsai said.
On accusations by the KMT that she had improperly benefited from Yu Chang Biotechnology, Tsai said the government was using the state to engage in political persecution.
Describing President Ma Ying-jeou (馬英九) as a "lagging competitor" and a "drowning person," Tsai said her rival was resorting to inappropriate tactics.
Tsai also promised she would establish a religious affairs department if she was elected next month, vowing to solve problems related to religion.
Tsai said she had visited many temples during her recent trips around Taiwan and realized that religion was the best form of spiritual support for Taiwanese who have experienced many changes, sufferings and hardships.
Tsai's running mate, Su Jia-chyuan (蘇嘉全), pledged the DPP would help promote religious development with reasonable regulations and services rather than money and he said the proposed religious affairs department would help tackle issues involving religious groups, such as land, temples and columbariums.
Currently, religious affairs are supervised by the Department of Civil Affairs under the Ministry of the Interior.
Meanwhile, DPP spokesman Chuang Ruei-hsiung (莊瑞雄) said the Ma administration should explain why, given its investment of NT$137 million (US$4.5 million) in Yu Chang last year, it was now making accusations against Tsai and her role as a one-time -chairperson at the company.
The government should also explain why in 2009 it invested NT$5 billion into China Airlines, only for the company to report a deficit of NT$3.8 billion that year.
Chuang also asked the government to reveal all government documents relating to its investments with Yu Chang.
The KMT claims Tsai received NT$100 million when she sold her shares in the company in 2009. Tsai says the case has been thoroughly scrutinized in the past three years and no inappropriate practices have been found, adding that while she promoted the biotech industry when she was vice premier, she was never involved with Yu Chang.
Additional reporting by CNA
Comments will be moderated. Keep comments relevant to the article. Remarks containing abusive and obscene language, personal attacks of any kind or promotion will be removed and the user banned. Final decision will be at the discretion of the Taipei Times.