2012 ELECTIONS: DPP focuses on policy in TV ads
ECONOMICS: Two new ads 'congratulate' President Ma Ying-jeou for his achievements — record-high home prices and record-low salary growth, the party said
The Democratic Progressive Party (DPP) is rolling out two new presidential election ad campaigns focusing on economic issues this week in a bid to shift the focus back to government policy, instead of the raging "war over persimmons."
In the ads, the party congratulated President Ma Ying-jeou (馬英九), who is seeking re-election, for posting new records — "record-high housing prices" and "record-low salary growth."
The subtitles in the advertisements read: "President Ma, you've broken the record again!"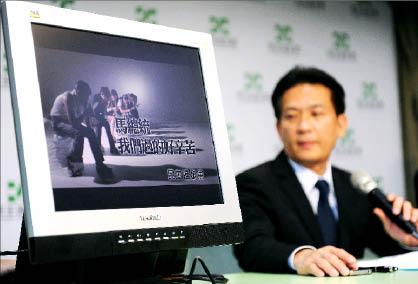 Democratic Progressive Party spokesperson Lin Chun-hsien shows a new TV campaign ad at a press conference yesterday criticizing President Ma Ying-jeou for his poor performance, record-breaking low salary growth and high housing prices.
Photo: Chang Chia-ming, Taipei Times
The first advertisement shows that a working-class citizen would only be able to afford an apartment in Taipei if he or she does not spend money on anything else in 16.2 years, DPP spokesperson Lin Chun-hsien (林俊憲) said, adding that the same statistics in the first quarter of this year was 13 years.
"The numbers proved that the rise in housing prices has far outpaced income growth," he said.
The second advertisement focused on the regression of Taiwan's salary growth, telling viewers that more than 3.6 million workers — or almost half of the nation's salaried people — were paid less than NT$30,000 (US$990) per month.
The salary was almost the same as 1999 levels and represented a 12-year slide, Lin said.
With regards to the ongoing "persimmon war," in which the DPP and the Chinese Nationalist Party (KMT) had been engaged in a battle of rhetoric over the falling prices of persimmons, the DPP reiterated that the key issue was not prices per se, but the persistent problem of a supply-and-demand imbalance in the agricultural sector.
In a recent campaign flyer printed in the format of a calendar, the DPP listed a dozen types of locally grown fruits, among them persimmons, that have plunged in prices this year.
The persimmons shown on the flyer were non-astringent persimmons, which were being sold at least 10 times the price of astringent persimmons, the fruit the DPP wanted to highlight.
Ma and the KMT subsequently accused the DPP of misleading the public by quoting incorrect prices and hurting farmers who grow non-astringent persimmons.
It was unfortunate that the Ma administration had turned a blind eye to the rising cases of falling fruit prices and the Council of Agriculture had insisted that compensation for farm produce loss was the responsibility of local governments, DPP spokesperson Chen Chi-mai (陳其邁) said.
While the KMT continued to attack the DPP over the misplaced picture and claim that the DPP's flyer had dragged down the price of non-astringent persimmons, the DPP maintained its position as a political party which prides itself of always taking care of farmers, he said.
"To us, this is an agricultural issue that affects the lives of hundreds of thousands of farmers and not a campaign issue," Chen said.
Comments will be moderated. Keep comments relevant to the article. Remarks containing abusive and obscene language, personal attacks of any kind or promotion will be removed and the user banned. Final decision will be at the discretion of the Taipei Times.