2012 ELECTIONS: Woman makes large piggy bank delivery
BRING IN THE BACON: A Tsai supporter took 10 days to fill 14 piggy banks for the DPP's presidential campaign. She said she hopes Taiwan's first female leader is elected
A 65-year-old woman named Tseng Pi-hsia (曾碧霞) yesterday delivered 14 full piggy banks for Democratic Progressive Party (DPP) Chairperson Tsai Ing-wen's (蔡英文) "three little pigs" donation drive for her presidential campaign, after riding on a scooter for 40 minutes from Greater Taichung's Taiping (太平) to the party's Taichung campaign headquarters in Fongyuan (豐原).
At 10:30am, Tseng appeared at the campaign headquarters with a big heavy basket and said: "I'm returning the full piggy banks," before taking out 14 banks, either filled with NT$10 or NT$50 coins, and with some even holding NT$500 or NT$1,000 bills.
Tseng said that she made her way to the county headquarters on her scooter and was afraid that the money would get wet, so she put the piggy banks into separate plastic bags to keep them dry.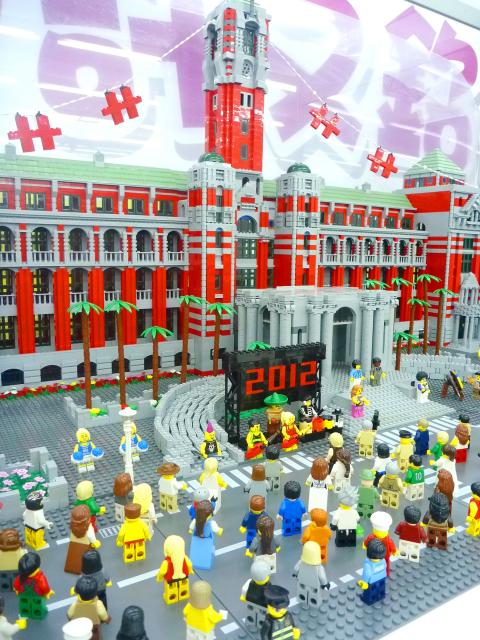 A Lego model assembled by supporters of Democratic Progressive Party Chairperson Tsai Ing-wen is displayed in New Taipei City yesterday. It represents an imagined party in front of the Presidential Office during next year's Double Ten National Day celebrations following a victory by Tsai in January's -presidential election.
Photo: Pan Hsing-hui, Taipei Times
According to Tseng, about 10 days ago she picked up 25 empty piggy banks from the DPP's campaign headquarters and then gave to her neighbors, friends or family.
Fourteen of them have already been filled, with one holding about NT$4,000.
"I'm just a normal woman who has voted for the DPP since Chen Ding-nan [陳定南], the former minister of justice, participated in the election for governor of Taiwan Province in 1994," Tseng said.
She added that she hoped that Taiwan would elect its first female president, who would really be able to take care of all the people.
"Tseng's dedication and support for Tsai made us respect her all the more," workers at the campaign headquarters said.
Earlier this week, the DPP's campaign headquarters in Greater Taichung said that a 76-year-old farmer, accompanied by her grandson, drove six hours from Lishan (梨山) to deliver the piggy banks she had been saving up for Tsai.
Translated by Jake Chung, Staff Writer
Comments will be moderated. Keep comments relevant to the article. Remarks containing abusive and obscene language, personal attacks of any kind or promotion will be removed and the user banned. Final decision will be at the discretion of the Taipei Times.