2012 ELECTIONS: Tsai, Ma's chances almost level: center
MOVEMENT: An election prediction exchange says the DPP chairperson has been building on her chances of an election victory and is now leading
The chances of President Ma Ying-jeou (馬英九) and Democratic Progressive Party Chairwoman Tsai Ing-wen (蔡英文) winning January's presidential election are about even, according to an election prediction exchange.
National Chengchi University's Prediction Markets Center said yesterday that Ma's chances of winning the election rose steadily from early September and reached a peak on Oct. 16 when he was 18.7 percentage points more likely than Tsai to emerge victorious.
However, that lead has narrowed after Ma a day later floated the idea of the possibility of a peace pact being signed with China within the next 10 years.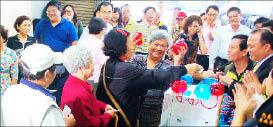 Supporters of Democratic Progressive Party Chairperson Tsai Ing-wen line up at her Yilan County campaign office yesterday to collect piggy banks, which are being used to raise campaign funds.
Photo: Yang I-min, Taipei Times
As of Monday, Tsai was given a 48.9 percent chance of victory, while Ma's chance stood at 48.4 percent. Tsai had a narrow lead on the exchange in six of the seven days through Monday.
On a separate exchange predicting what percentage of the vote Ma and Tsai would get, Ma had maintained a narrow lead over Tsai since June 19, but this was also reversed after Ma broached his peace pact idea.
Tsai's "stock" pushed ahead of Ma's on Oct. 19 and estimates of their respective vote count remained within 0.6 of a percentage point of each other until Monday, when Tsai moved 0.8 of a percentage point ahead, indicating that the DPP chairwoman has shed any disadvantage she was perceived as having in the race.
People First Party Chairman James Soong (宋楚瑜) saw prediction markets participants push his chances of victory slightly higher on Monday, giving him a 4.4 percent chance of winning as opposed to 3 percent on Oct. 25.
On another market, 92.7 percent of participants predicted Soong would be able to garner more than 257,000 signatures from eligible voters — the minimum needed for him to make a presidential run.
Soong and his running mate, Taiwan University professor emeritus Lin Ruey-shiung (林瑞雄), yesterday announced that they had collected more than 350,000 signatures endorsing their ticket and confirmed that they would move to join the presidential race.
The center's markets have predicted since the end of September that there was an 80 percent likelihood of Soong joining the presidential race, a probability that rose to 90 percent on Monday.
The center said that its markets have successfully forecast the results of five recent major elections, including the December 2006 mayoral elections in Taipei and Kaohsiung and the January 2008 legislative elections.
In the 2008 legislative elections, the markets accurately predicted 80 percent of the winners in the 73 constituencies 13 days prior to election day, the center said.
According to the center, prediction markets efficiently collect effective information through a futures or stocks trading mechanism that relies on the wisdom of the public, who buy and sell contracts of future events on the markets.
Comments will be moderated. Keep comments relevant to the article. Remarks containing abusive and obscene language, personal attacks of any kind or promotion will be removed and the user banned. Final decision will be at the discretion of the Taipei Times.