Students complete walk for charity
AFRICAN FUND: Seventy high-school students from six countries participated in the 100km walk to raise money to drill wells and improve water access in Africa
Students from Taiwan and five other countries completed a 100km walk yesterday to raise funds for needy children in Africa, as part of a global conference hosted by Changhua Senior High School.
The group of 70 high-school students from the US, Canada, Japan, Kenya, Swaziland and Taiwan arrived at Singang's Fongtian Temple in Chiayi County after a five-day walk that began in Changhua City.
The students are participants in the sixth International High School Youth Leadership Conference hosted by the high school.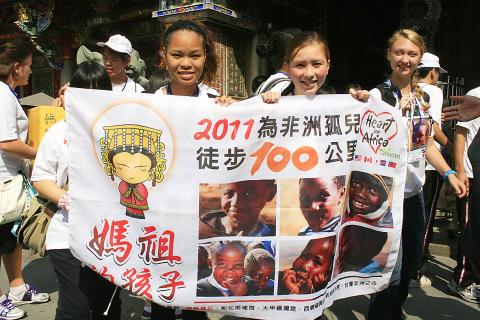 High-school students hold up a banner for the 2011 Heart for Africa sponsored walk after arriving at their final destination, Fongtian Temple in Chiayi County's Singang Township, yesterday.
Photo: CNA
"Walk for water," they chanted during the walk, which was organized to raise money to drill wells in Africa.
Some children in impoverished areas of Africa have to walk several kilometers every day to get to school or find drinking water so they can have their only proper meal of the day — cornmeal porridge, said organizer Lewis Lu (呂興忠), director of the school library.
The walk was launched to help the students "act instead of read" and experience the difficulty others encounter obtaining drinking water, Lu said.
The participants walked 20km each day and attended academic forums at night.
A Canadian student, identified only as Lauren, said the experience was "an eye opener" for her. The 16-year-old said she would never forget the kindness and hospitality of Taiwanese.
The Vancouver resident said that despite the high temperature, she was not tired from the walk.
Many of the participants from Canada are familiar with volunteer and charity work, including volunteering in Africa or involvement in children's and human rights movements.
A group of students from the tsunami-hit Miyagi Prefecture in northeast Japan was also among the 25 international participants.
One of the Japanese participants, Daito Sato, decided to join the charity cause although his parents, who were injured in the March 11 earthquake, are still in hospital.
At a news conference held after the walk, Janine Maxwell, founder of the non-profit US organization Heart for Africa, thanked Taiwanese for their generosity.
"Clean drinking water is very important for poor African children because water is necessary for raising kids and farming, which can help the next generation survive," she said.
Comments will be moderated. Keep comments relevant to the article. Remarks containing abusive and obscene language, personal attacks of any kind or promotion will be removed and the user banned. Final decision will be at the discretion of the Taipei Times.