2012 ELECTIONS: Ma defends peace agreement
FIRM STANCE: In a TV chat show, the president reiterated his love for Taiwan and said his proposed peace pact with China was not a move toward unification
President Ma Ying-jeou (馬英九) yesterday touted his love for Taiwan and his efforts to secure the nation's sovereignty, insisting that his proposed peace agreement with China is aimed at establishing long-term cross-strait peace.
In an interview with the talk show Report to the Voters on CTV, Ma bemoaned the Democratic Progressive Party's (DPP) continuous challenges over his pro-China stance following his recent proposal to sign a peace agreement with China, saying that he should not carry "original sin" just because his parents came from China.
"Your hometown is where you bury your family members. My grandparents, my father and my uncle are buried here. I love Taiwan deeply because Taiwan is my home and no one should doubt my love for Taiwan," he said.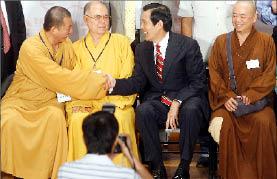 President Ma Ying-jeou, second right, shakes hands with an attendee at the founding of a support group by religious leaders for his re-election bid in Taipei yesterday.
Photo: CNA
Discussing his cross-strait policies in the hour-long interview, Ma reiterated that key to his proposed peace pact is systemizing the "status quo" across the Taiwan Strait.
The two sides of the Strait maintain the "status quo" of the "three noes" — no unification, no independence and no use of force — and the proposed peace agreement was based on the principle of "no use of force," Ma said.
He insisted that former presidents Lee Teng-hui (李登輝) and Chen Shui-bian (陳水扁), as well as DPP Chairperson Tsai Ing-wen (蔡英文), had proposed similar mechanisms to maintain cross-strait peace and his efforts should not be distorted as a move toward unification.
"We will be extremely cautious when promoting any of the policies mentioned in my 'golden decade' visions and, as I said, the government will not promote a peace pact without domestic support," he said.
Domestic support for the peace pact would be determined through a referendum, he said.
Ma added that if he is re-elected in January's presidential election, he would not take the victory as support for his proposed peace agreement, and he dismissed concerns that the Ma camp is attempting to turn the presidential election into a peace agreement referendum.
Signing a peace agreement with China was one of the proposals Ma outlined for what he called a "golden decade," one of the pillars of his re-election campaign platform.
When asked about the time frame for signing a peace agreement with China, the president said it was unlikely that a cross-strait peace pact could be promoted during his second term, if he is re-elected, as the nation is still living in a bipartisan political environment.
"However, as the president of the nation, I need to consider the future of our next generations and be prepared for the issues the nation will face in the next decade, including long-term peace across the Taiwan Strait," he said.
He also dismissed the DPP's criticisms of his golden decade visions as a "one-man decision" and said that the contents of the visions were presented only after cross-departmental discussions.
Comments will be moderated. Keep comments relevant to the article. Remarks containing abusive and obscene language, personal attacks of any kind or promotion will be removed and the user banned. Final decision will be at the discretion of the Taipei Times.