Changhua students to walk 100km for charity
HELPING OTHERS: The route of the walk will follow that of the annual Matsu parade in an effort to raise awareness of the charity among Matsu followers
All students below high-school level in Changhua County are to get a whole week off this week as the county hosts the National Games.
While for many, the break might be considered an extra holiday to enjoy recreational activities, a group of 55 Changhua Senior High-School students and 20 college students who graduated from the school, however, will use the time to take part in a 100km walk to raise funds for African children who have no access to clean water.
The group will be joined by 25 international students from 10 -senior-high schools from six countries, including Atlanta Girls' High School and King's Ridge Christian High School in the US; Walnut Grove Secondary School in Canada; Meijo Gakuin High School, Okinawa Shogaku High School and Ishinomaki Kobunkan High School in Japan; and Entangeni Dlalisile High School in Swaziland, as well as students studying in Taiwan from Kenya and other African countries.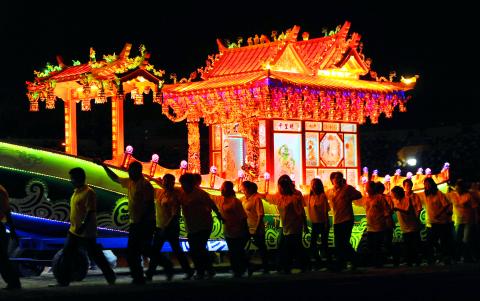 Participants in the opening ceremony for the 2011 National Games at Changhua County Sports Arena walk past a temple during a traditional pilgrimage around Changhua to mark the opening of the Games yesterday.
Photo: CNA
Changhua Senior High School library director Lewis Lu (呂興忠), who organized the fundraising event, said on the telephone yesterday the idea came from "what we can really offer them [African children] in return after they have helped [our kids] grow up and change their lives."
The five-day walk, which begins tomorrow, is expected to raise between NT$2 million (US$66,000) and NT$8 million in a year, Lu said. "About NT$200,000 can sponsor a Heart for Africa, [a Canada Revenue Agency-registered charity] well in Africa, providing 3,000 people with water."
Lu first assisted students interested in volunteering to work in Swaziland during the summer of 2008, taking with them donations from Taiwan for orphans and children with AIDS
"Over the four years, we took them [African kids] computers, instant noodles, blankets ... but we knew that such things did not help them improve their lives in a sustainable way. Volunteer work changed the way our children live their lives. It was the [African kids] that helped us, not the other way around," Lu said.
Aristo Chen (陳偉銘), in his second year at the school, said the event sends a message to people in Taiwan that "we are capable of helping people in need."
"I hope that the five-day 100km walk means that children in Africa do not have to walk 13km every day to fetch water," Chen said.
Participants will walk along the same route as that taken by Taiwan's preeminent folk deity, Matsu, each year, during an important religious event held annually at the end of the third lunar month that always attract millions of worshippers.
Lu said that the choice of route aimed to raise awareness of the charity among Matsu followers.
During the Matsu parade tour, people spend about NT$16 billion setting off firecrackers and tens of billions on burning incense, Lu said.
"With the fundraising event, we encourage people to reflect on Matsu's love and kindness and emulate her by extending a helping hand to others rather than just thinking about ourselves," he said.
Comments will be moderated. Keep comments relevant to the article. Remarks containing abusive and obscene language, personal attacks of any kind or promotion will be removed and the user banned. Final decision will be at the discretion of the Taipei Times.