Tsai fundraiser set for Saturday
A PARTY'S PARTY: The fundraiser for Tsai Ing-wen's presidential campaign at its headquarters will feature autographed lunchboxes, hotpot as well as a concert
A fundraiser for Democratic Progressive Party (DPP) Chairperson Tsai Ing-wen (蔡英文) is scheduled to be held at her presidential campaign headquarters in New Taipei City (新北市) on Saturday, featuring lunchbox sets hailing Tsai as "Taiwan's first female president."
In lieu of traditional banquet-styled meals, the fundraiser will serve a double-layered lunchbox personally signed by Tsai, campaign headquarters official Wu Ping-jui (吳秉叡) said yesterday. The fundraiser will also provide a little hotpot at the center of the tables, he added.
According to Wu, about 3,000 or so tickets were sold as of yesterday, with each selling for NT$10,000.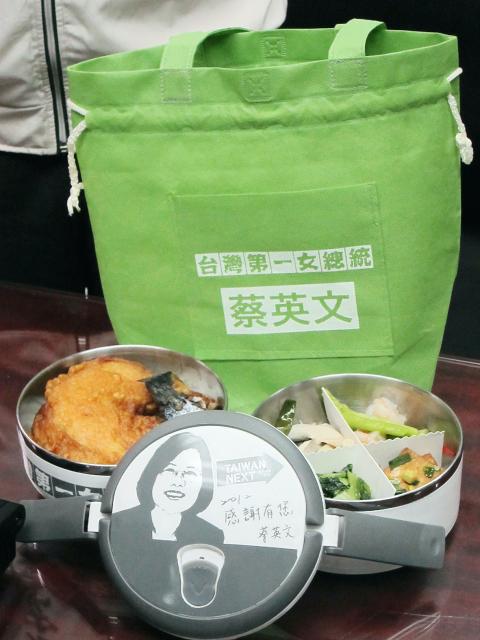 Democratic Progressive Party Chairperson Tsai Ing-wen's picture and signature appear on lunchboxes yesterday, which will be on sale at a fundraising dinner at her presidential campaign headquarters in Banciao District, New Taipei City, on Saturday.
Photo: Ho Yu-hua, Taipei Times
Wu said the fundraiser would be held in the form of a concert, featuring performances from renowned rock band The Chairman (董事長樂團) and blind crooner Lee Bing-hui (李炳輝), among others.
Tsai and former premier Su Tseng-chang (蘇貞昌) will also be at the fundraiser to thank their supporters, Wu added.
Meanwhile, Tsai, who rarely talks about her family, revealed a personal story in her soon-to-be-released autobiography, saying that her father passed away during a period when she was overseeing the Taiwan Sustainable Economy Development Association in her capacity as the then-deputy premier.
Tsai said she didn't take leave, but kept vigil beside the coffin when she got off work. She added that she even returned the award given to her when she stepped down as deputy premier, saying that "accepting it would only remind me of my guilt."
The book, titled From Scrambled Eggs with Onions to Little Ing Lunchboxes — The Life Experiences of Tsai Ing-wen (洋蔥炒蛋到小英便當,蔡英文的人生滋味), will be made available through online retailers today, and is scheduled to hit shelves at the end of the month.
According to sources, publishers have always wanted Tsai to publish an autobiography ever since she was a Cabinet member, but she continually rebuffed them. Now that she is running for president, an autobiography would let readers understand what kind of person Tsai is, sources said.
However, as a person that places emphasis on personal privacy, Tsai still requested the publishing company to refrain from asking her questions about her private life prior to the publishing of the book, sources added.
Translated by Jake Chung, staff writer
Comments will be moderated. Keep comments relevant to the article. Remarks containing abusive and obscene language, personal attacks of any kind or promotion will be removed and the user banned. Final decision will be at the discretion of the Taipei Times.