Minister suggests Su's farmhouse illegal
Comparing a farmhouse owned by Democratic Progressive Party (DPP) vice presidential candidate Su Jia-chyuan (蘇嘉全) to an empty hospital, Council of Agriculture Minister Chen Wu-hsiung (陳武雄) yesterday hinted that the structure was illegal.
"It's like you've built a hospital, but there are not doctors or nurses working there. There are no medicines, neither are there patients. You can't call it a hospital, can you?" Chen said, while fielding questions from Chinese Nationalist Party (KMT) Legislator Lin Ming-chen (林明溱) at the legislature.
Su has been mired in a controversy in recent weeks following KMT Legislator Chiu Yi's (邱毅) allegation that Su's farmhouse in Pingtung County, which is registered under his wife's name, violates rules that only farmers can own farmhouses and 90 percent of the farmland shall only be used for farming.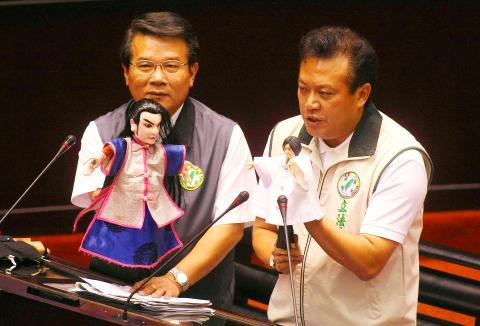 Democratic Progressive Party legislators Kuo Wen-chen, left, and Su Chen-ching discuss current affairs using traditional "Budaixi" puppets in the legislature yesterday.
Photo: CNA
The Pingtung County Government has determined the farmhouse in Changchih Township (長治) is legal, but the council's stance on the issue has been ambiguous.
"If the farmhouse was illegal, you could have gone ahead and dismantled it. Why haven't you done that?" DPP Legislator Kuo Wen-cheng (郭玟成) asked Chen.
Kuo, along with DPP Legislator Su Chen-ching (蘇震清), Su Jia-chyuan's niece, listed three reasons why they thought Chen had been delaying action or been ambiguous on the issue.
They accused Chen of dancing to the KMT's tune by slandering Su Jia-chyuan, that the council lacked clear-cut regulations governing the construction of farmhouses and the use of farmland, and that it was not an isolated case as there are tens of thousands of similar farmhouses throughout the country.
Chen said the authority to determine the legality of farmhouses lies with local governments.
"The Pingtung County Government has failed to explain whether 90 percent of the farmland has been used for farming," Chen said.
Chen said he believed the county government "knew" that farmland was not being used for farming because it has levied a land value tax on the property since 2007.
"Tax authorities know that it is not a farmland, that's why they have been imposing a land value tax [on Su's property] since 2007. How can the Pingtung County Government not know about it?" Chen said.
The DPP has also accused KMT legislators Chung Shao-ho (鍾紹和) and Chao Li-yun (趙麗雲) and Kaohsiung City Council Speaker Hsu Kun-yuan (許崑源), head of Chiu's campaign office, of owning illegally constructed farmhouses and of using farmland for other purposes.
Comments will be moderated. Keep comments relevant to the article. Remarks containing abusive and obscene language, personal attacks of any kind or promotion will be removed and the user banned. Final decision will be at the discretion of the Taipei Times.