Huge crowds greet Tsai in Kaohsiung
CONSOLIDATING SUPPORT: Tsai aims to garner at least 60 percent of voters in the DPP's southern stronghold, while aiming to match Ma's support in central Taiwan
A crowd of about 10,000 supporters rallied in Greater Kaohsiung yesterday evening as the Democratic Progressive Party (DPP) presidential ticket of DPP Chairperson Tsai Ing-wen (蔡英文) and her running-mate Su Jia-chyuan (蘇嘉全) stepped up their campaign to win January's election.
The rally, held on the third day of Tsai's 11-day campaign tour of the west coast, was the first of three planned large rallies in campaign, which aims to consolidate voter support with less than 100 days to go before the Jan. 14 election.
"Many people have described the campaign atmosphere as 'cool,' but I don't feel it. The campaign atmosphere in southern Taiwan has seemed very hot to me," Tsai said.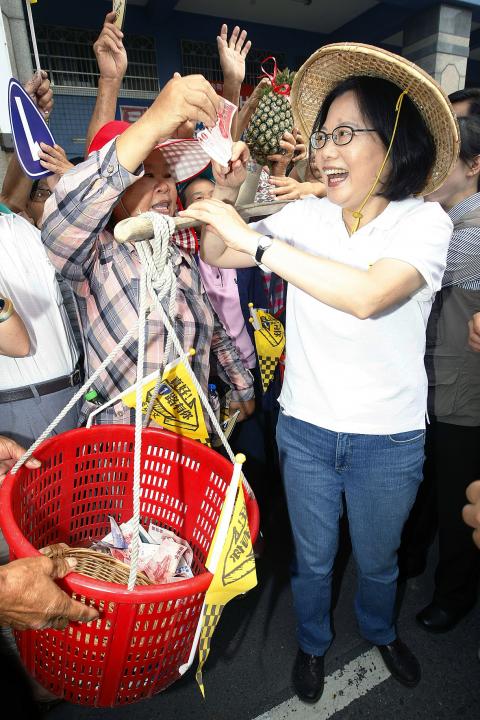 Supporters of Democratic Progressive Party Chairperson Tsai Ing-wen's presidential bid put money in a "carrying pole donation basket" given to Tsai by supporters in Greater Kaohsiung yesterday.
Photo: CNA
The traveling group has received warm receptions in southern Taiwan, which has long been viewed as the DPP's stronghold, especially in Tsai's hometown of Pingtung County. However, the DPP would not take the event lightly.
"We would love to have a good start, given that tonight's event is the first of three [rallies] during the trip," a DPP official who wished to be anonymous said, adding that a controversy surrounding Su's farmhouse "has also been a distraction for the campaign lately."
Several DPP officials said that the party was hoping to garner at least 60 percent of the votes in southern Taiwan and to equal Chinese Nationalist Party (KMT) President Ma Ying-jeou's (馬英九) support in central Taiwan.
The DPP has vowed to return to power after going through a period of decline, Kaohsiung Mayor Chen Chu (陳菊) told supporters who packed the Workers' Park.
"But that would not be possible without your consolidated effort and support," Chen said, urging voters to support Tsai and make Tsai the first female president in Taiwan's history.
In addition to Chen, DPP heavyweights, including former premiers Frank Hsieh (謝長廷), Su Tseng-chang (蘇貞昌) and Yu Shyi-kun (游錫堃), also showed up at the event
Earlier in the day, Tsai during a campaign stop warned the Ma government about monopolies on coffee beans, milk powder and natural gas, among others, amid widespread complaints about price hikes on coffee.
Global and domestic influences both factor in the coffee hike increase, Tsai said during a presidential campaign stop yesterday, and the government should pay attention to the latter.
In Taiwan, coffee, milk powder and natural gas have long been monopolized by a few companies, she said, adding that prices of agricultural products and average salaries were dropping at the same time.
"The government has viewed these problems as election issues, rather than people's daily needs," she said.
The campaign trip, which will take Tsai and Su through 79 townships and 14 counties, will arrive Greater Tainan today. It will conclude in Taipei next Sunday.
Comments will be moderated. Keep comments relevant to the article. Remarks containing abusive and obscene language, personal attacks of any kind or promotion will be removed and the user banned. Final decision will be at the discretion of the Taipei Times.