DPP preparing to unveil China policy
HECTIC WEEK Tsai Ing-wen is to host the China policy presentation tomorrow, while DPP sources say the announcement of Tsai's running mate is expected later this week
The Democratic Progressive Party (DPP) is preparing for a busy week as the party hopes to spark a shift in momentum in its favor for next year's presidential election.
DPP Chairperson Tsai Ing-wen (蔡英文) is scheduled to unveil her long-awaited China policy tomorrow before the announcement of the 10-year policy guidelines — effectively her presidential platform — which are expected to be approved by the party's Central Executive Committee meeting the following day.
DPP sources said the announcement of the vice presidential candidate is expected to take place sometime between Wednesday and Sunday's party congress, which is seen as the first climax of Tsai's presidential campaign.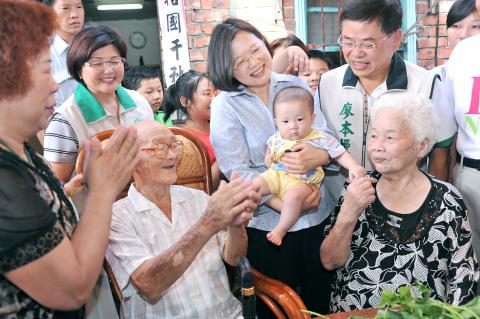 Democratic Progressive Party Chairperson Tsai Ing-wen, the party's presidential candidate, holds the great grandson of centenarian Jui Wang Teh-cheng, sitting left, in New Taipei City yesterday.
Photo: Hsieh Chia-chun, Taipei Times
Tsai still kept tight-lipped about her running mate, saying in response to questions from reporters yesterday morning that "a considerable number of candidates are still in consideration" and that she was consulting party members about the nomination.
The selection process has been very rigorous and is not just a matter of picking "someone that I like," Tsai said.
Media speculation has continued regarding possible candidates for the position. Former finance minister Lin Chuan (林全), central bank Governor Perng Fai-nan (彭淮南), former deputy premier Lin Hsin-yi (林信義) and former DPP chairman Lin Yi-hsiung (林義雄) have all been tipped as possible candidates.
Speculation has also centered on DPP Secretary-General Su Jia-chyuan (蘇嘉全) and former premier Su Tseng-chang (蘇貞昌), who lost to Tsai in the DPP presidential primary in April.
The DPP is hoping that a series of presentations on the 10-year policy guidelines, which Tsai has been working on for two-and-a-half years, would shift the focus of the campaign back to the policy front.
Tsai's campaign began the presentations on Tuesday last week, starting with its finance and tax policy, and followed by policies on housing, regional development and education.
The string of press conferences have helped boost Tsai's campaign, which has been described as "passive," by dominating public discussions over the past week, forcing President Ma Ying-jeou's (馬英九) re-election campaign to be on the defensive.
"We believe the policy front will be the most fascinating aspect of Tsai's campaign. We also believe that the election culture in Taiwan is changing," DPP spokesman Chen Chi-mai (陳其邁) said.
The DPP is not afraid to present policies that could generate controversy, as long as those policies facilitate meaningful discussions, he said.
Tsai's China policy could be the most controversial aspect of the policy guidelines as critics have described her past comments on cross-strait relations as "ambiguous."
Tomorrow, Tsai, who served as chairperson of the Mainland Affairs Council under the former DPP administration, is scheduled to host the China policy presentation, which DPP sources said will consist of two parts — national security and cross-strait economic and trade relations.
However, there will not be too many surprises, the sources said, as Tsai has always believed that cross-strait relations should be part of Taiwan's engagement in global affairs through a multilateral framework, such as the WTO.
Comments will be moderated. Keep comments relevant to the article. Remarks containing abusive and obscene language, personal attacks of any kind or promotion will be removed and the user banned. Final decision will be at the discretion of the Taipei Times.