Chemical castration law is unnecessary: lawmaker
The chemical castration of repeat sex offenders is a form of therapy, not a punishment, and it does not need to be written into law, a Chinese Nationalist Party (KMT) lawmaker said yesterday.
KMT Legislator Pan Wei-kang (潘維剛) said that in a number of public hearings organized to discuss amendments to the Sexual Assault Crime Prevention Act (性侵害犯罪防治法), a majority of specialists and academics agreed that the chemical castration of repeat sex offenders should be considered therapeutic intervention. If that definition receives broad public acceptance it would not be necessary to insert a new clause into the law to authorize its use in specific cases, Pan said.
Echoing Pan's views, Food and Drug Administration Deputy Director Wang Tsung-hsi (王宗曦) said chemical castration is purely a medical matter. Since chemical castration is not part of the penalty regime for offenders there was no need to amend the law to implement it, he said.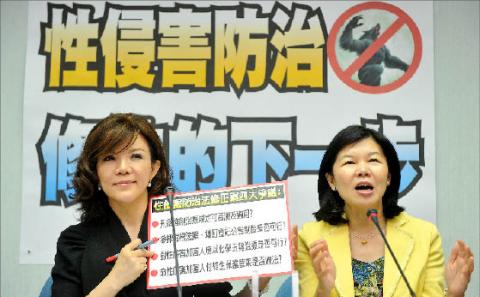 Chinese Nationalist Party (KMT) lawmakers Chao Li-yun, left, and Pan Wei-kang hold a press conference to talk about the use of chemical castration on repeat sex offenders in Taipei City --yesterday.
Photo: Chien Jung-fong, Taipei Times
However, Ministry of Justice Chief Secretary Tsai Ching-hsiang (蔡清祥) said the Criminal Law would have to be amended in order to carry out the chemical castration of sex offenders.
If chemical castration is to be used as a form of punishment, the penal code must first be amended, Tsai said.
According to Pan, legislators from across party lines have agreed to prioritize the screening of revisions to the Sexual Assault Crime Prevention Act.
"The KMT will see to it that the amendments are passed in the next legislative session," Pan said.
The issue of chemical castration was raised in March after a repeat sex offender allegedly raped and murdered a teenage girl shortly after his release from prison. The man was released in February and was scheduled for his first rehabilitation counseling session on April 1.
Comments will be moderated. Keep comments relevant to the article. Remarks containing abusive and obscene language, personal attacks of any kind or promotion will be removed and the user banned. Final decision will be at the discretion of the Taipei Times.