Women ready, prepared for political power: Tsai
OVERCOMING TRADITION: Tsai has so far downplayed gender as an issue in the election, but women voters could yet be the key to her becoming ROC president
Women are "ready" and "prepared" to take the nation's presidency and put to rest traditional concepts about them, Democratic Progressive Party (DPP) presidential hopeful Tsai Ing-wen (蔡英文) said yesterday.
"Our time has come and we are ready," Tsai told a discussion on female empowerment at the Garden of Hope Foundation in Taipei. "Next year will be an important test as to whether Taiwanese society can overcome traditional ideas about women and accept a female leader. There are people who wonder whether it is possible ... but I believe that the end result will be a good one."
The remarks drew applause as Tsai, the nation's first female presidential candidate representing a major political party, seeks more support among female voters — a demographic evenly split between her and President Ma Ying-jeou (馬英九), recent polls showed.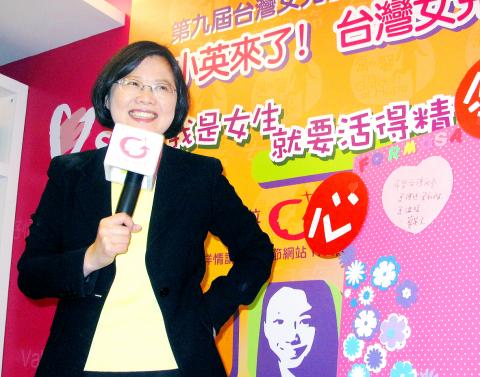 Democratic Progressive Party (DPP) Chairperson and presidential candidate Tsai Ing-wen speaks at a discussion on female empowerment at the Garden of Hope Foundation in Taipei yesterday.
Photo: CNA
Responding to questions on whether women in politics faced greater difficulties, Tsai said that "surprisingly," female candidates had been treated more favorably in the political arena, adding that more women should become involved.
"Many times we hear people say that as long as it is a female with a high level of education and good looks, she will be elected. In other words, society is starting to have a more favorable impression of female politicians," she said.
Tsai has largely downplayed the gender issue before the upcoming campaign, which is expected to pick up in earnest in the next two months. Yesterday was one of the few occasions where she spoke on the subject.
Tsai also commented on a report by the Chinese-language Want Daily saying Beijing had been exerting pressure on the DPP and Tsai through the American Institute in Taiwan (AIT) to accept the so-called "1992 consensus."
The controversial consensus refers to a supposed understanding reached during a meeting in Hong Kong in 1992 between Taiwanese and Chinese representatives, under which both sides claim to have acknowledged that there was "one China," with each side having its own interpretation of what "one China" means.
The DPP insists that the "1992 consensus" does not exist.
In 2006, former Mainland Affairs Council chairman Su Chi (蘇起) admitted he made up the term in 2000 before the Chinese Nationalist Party (KMT) handed power over to the DPP.
The Want Daily quoted unnamed sources as saying that the matter was discussed between a Chinese Taiwan Affairs Office official and AIT Chairman Raymond Burghardt in New York last week.
Saying she wasn't clear on the issue, Tsai, however, countered that "China should spend some time understanding the substance of Taiwan's democracy," adding that changes in administrations and policies were a "common routine" in democratic politics.
Comments will be moderated. Keep comments relevant to the article. Remarks containing abusive and obscene language, personal attacks of any kind or promotion will be removed and the user banned. Final decision will be at the discretion of the Taipei Times.