Expo visitors set daily record
WITHIN SIGHT: The number of visitors to the Taipei International Flora Expo on the second-last day brought the total attendance figure closer to the 8.9 million mark
A record number of visitors descended on the Taipei International Flora Expo yesterday, thronging various venues and taking the event one step closer to an estimated 8.9 million as it concludes this evening.
By 8pm yesterday, 182,481 people had visited the expo during the day, breaking an earlier record of 153,833 set on Feb. 27.
This brought the total number of visitors to the expo to 8.8 million.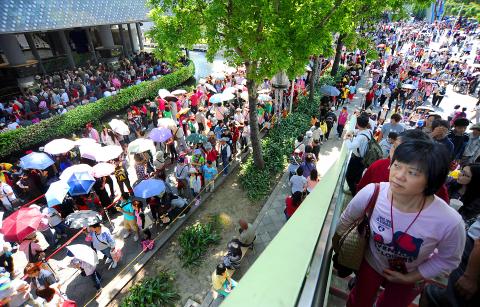 Visitors pack the second-last day of the Taipei International Flora Expo yesterday.
Photo: Lo Pei-der, Taipei Times
Expo spokesperson Ma Chien-hui (馬千惠) said the final day of the event, which would feature a full day of celebrations with carnivals and a fireworks show, was expected to attract more than 100,000 visitors.
Hoping for a last chance to visit the expo, visitors started lining up for tickets at 2am. About two hours later, all 3,000 appointment slips for the most popular pavilion, the Pavilion of Dreams, were gone.
High temperatures and overcrowded exhibition sites drew some complaints from visitors, who said the quality of the exhibition had suffered as a result of the large number of visitors.
"It's so crowded that me and my family decided to leave early. It's impossible to enter any pavilions or enjoy the floral decorations at outdoor areas because all you can see is people," 34-year-old Taipei resident Chiu Fang-lin (邱芳琳) said.
Wu Chi-kai (吳啟凱), a resident of Greater Kaohsiung who also defied the crowd, said he expected a lot of people, but still decided to come -because he did not want to waste the advanced ticket he purchased.
As of yesterday, a total of 1.1 million advanced tickets remained unused, Ma said.
Taipei Mayor Hau Lung-bin (郝龍斌) said advanced tickets were not refundable because the refund period ended on Nov. 13 last year. He said the sale of advance tickets was done in accordance with regulations on charges and fees, and that expo organizers had informed advance ticket holders about the refund policy on its Web site.
Attending closing ceremonies for several pavilions, Hau thanked expo staff and volunteers for their dedication and said he expected the expo, which opened on Nov. 6 last year, would leave a wonderful memory for the public.
"We've been through the ups and downs for the hosting of the expo and I thank all of you for helping mark a perfect end to the event," he said.
Today's closing festivities will begin at 3pm with a parade at Dajia Riverside Park, followed by a series of performances featuring Aboriginal dancers and a theater show at 5pm.
A food festival featuring 160 vendors selling all kinds of Taiwanese snacks will be held at the park from 4pm to 9pm and a three-minute fireworks show will mark the official end of the expo at 10pm.
Expo organizers said the most popular pavilions would be reopened to the public as early as July after renovations.
Comments will be moderated. Keep comments relevant to the article. Remarks containing abusive and obscene language, personal attacks of any kind or promotion will be removed and the user banned. Final decision will be at the discretion of the Taipei Times.