DPP presidential hopefuls to hold talks
Closed-door meetings between Democratic Progressive Party (DPP) presidential hopefuls are expected to be held before the end of the month to stave off a possibly damaging split during the primary, party sources said yesterday.
The focus is expected to stay on Tsai Ing-wen (蔡英文), who stepped down temporarily as party chairperson to focus on her campaign, and former premier Su Tseng-chang (蘇貞昌), and on whether a deal can be brokered between the two leading contenders.
Sources close to both campaigns said the closed-door negotiations would likely be modeled on the previous discussions on March 6 that saw participation by other key DPP politicians, including lawmakers and mayors.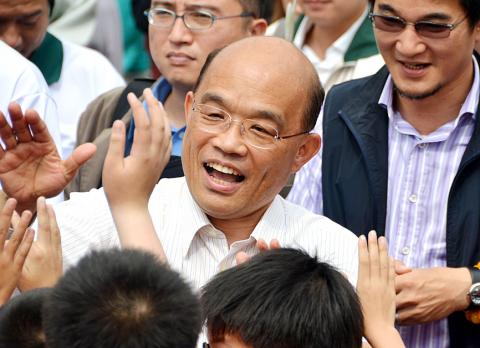 Former premier Su Tseng-chang, who is expected to announce his bid for the Democratic Progressive Party presidential primary this evening, 'high fives' school students at a butterfly festival in Linnei Township, Yunlin County, yesterday.
Photo: CNA
An invitation by either Tsai or Su for the other to join in on a vice presidential ticket would likely be on the table, although the offer is not expected to gain much traction.
Another option spearheaded by Su's campaign that could be discussed involves a handshake agreement that the runner-up in any preliminary polls would back down and support the leading candidate, sources said.
Tsai campaign office spokesperson Hsu Chia-chin (徐佳青) declined to comment on the specific proposals, but expressed cautious optimism over the upcoming talks.
"We hope that we can keep these discussions going. Everybody should have a spirit of yielding a bit for the greater good," Hsu said.
The meeting would likely be chaired by DPP acting chairperson Ker Chien-ming (柯建銘) or DPP Secretary-General Su Jia-chyuan (蘇嘉全).
Both camps said they hoped that further discussions would lead to concrete measures on the presidential campaign after the closed-door negotiations on March 6 left participants only with calls for party unity.
"Su is open to any kind of talks that are conducive to party unity," said Lee Hou-ching (李厚慶), a spokesperson for the former premier.
Former vice president Annette Lu (呂秀蓮), a presidential hopeful, is also expected to attend the upcoming talks, having attended the March 6 negotiations.
In addition to the closed-door talks, the DPP is scheduled to hold an official negotiation session on April 6. If the talks fall through, the DPP will hold telephone polls from April 25 to April 29. A final decision on a candidate is expected on May 4.
Comments will be moderated. Keep comments relevant to the article. Remarks containing abusive and obscene language, personal attacks of any kind or promotion will be removed and the user banned. Final decision will be at the discretion of the Taipei Times.