Court rules out further seizure of Chen family assets
The Supreme Court rejected an appeal on Thursday from the prosecutors' office to seize more property belonging to former president Chen Shui-bian (陳水扁) and his immediate family in connection with several corruption cases.
The court said that nearly all the money in Chen's Swiss bank accounts, totaling NT$700 million (US$23.8 million), had been remitted back to Taiwan and that should be enough to cover the fines demanded by the special prosecutor.
Spokesman Chen Hung-ta (陳宏達) said the court's decision will not affect the seizure of property in connection with the two cases in which Chen has already been found guilty — involving a land deal and money for political favors.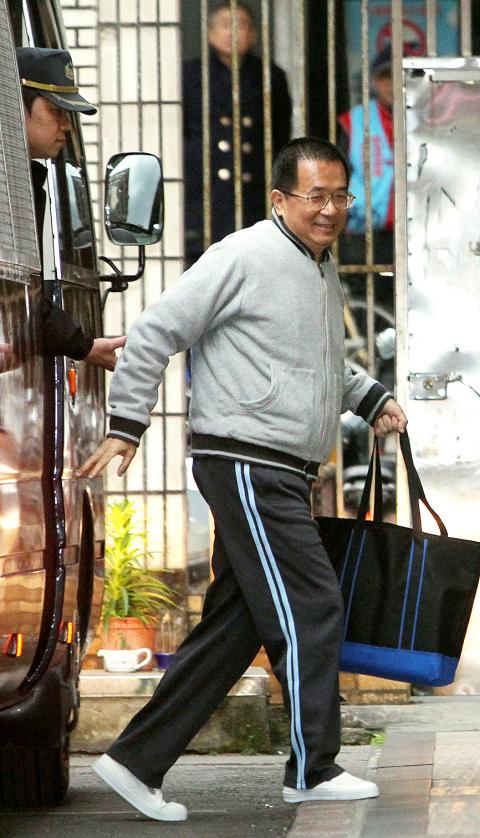 Former president Chen Shui-bian walks out of a police vehicle yesterday as he enters the Supreme Court to answer questions on corruption cases involving him and the former first family.
Photo: CNA
Chen and his wife, Wu Shu-jen (吳淑珍), have been sentenced to 17-and-a-half years in prison in those two cases.
The special prosecutor had requested court approval to seize NT$48 million in fixed deposits, 37 shares with unknown value, two houses and seven lots of land in Taipei worth more than NT$200 million.
However, the Supreme Court ruled that the Chens owe the state NT$470 million, not the NT$980 million claimed by the special prosecutor. Given that about NT$700 million of the family's overseas assets had been recovered, there was no need to make further seizures, it ruled.
Chen was transferred from a detention center on Dec. 2 to Taipei Prison in Taoyuan County, where he is now serving time.
Meanwhile, Wu was taken home from a prison hospital on Feb. 18, after Taichung Prison declined to admit her, saying that the wheelchair-bound Wu was not healthy enough to serve her sentence.
Kaohsiung Prosecutors' Office has said in a statement that it will regularly send staff to Wu's residence to determine whether her health has improved enough to enable her to begin serving her time behind bars.
Comments will be moderated. Keep comments relevant to the article. Remarks containing abusive and obscene language, personal attacks of any kind or promotion will be removed and the user banned. Final decision will be at the discretion of the Taipei Times.