Ma to host joint wedding to mark ROC anniversary
President Ma Ying-jeou (馬英九) will host a joint wedding for 100 couples on Jan. 1 as part of the New Year's Day flag-raising ceremony, one of a series of events organized by the government to mark the 100th anniversary of the founding of the Republic of China (ROC).
The couples will also be allowed to have their wedding photos taken in the Presidential Office — the first time the tightly guarded building has been opened to the public for such an activity.
A pre-wedding briefing was held yesterday for the couples.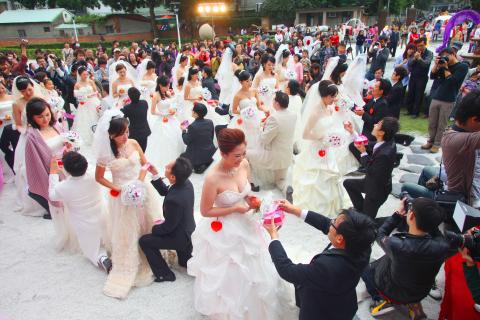 Grooms kneel and offer their brides a glass shoe while asking them to be their princess at a group wedding in Taipei County's Banciao City Hall yesterday.
Photo: Pan Hsing-hui, Taipei Times
Wu Teh-liang (吳德良), a groom-to-be, who was first to register for the mass wedding, said he was encouraged by his future in-laws to take part "to show his sincerity."
He eventually succeeded in getting the No. 1 designation by sending his registration form simultaneously using five different fax machines with the help of his colleagues.
Lee Ming-lung (李明龍), another groom-to-be, said he had only dated his girlfriend for three months when he saw the mass wedding advertisement in August. He decided to ask his partner to marry him and they became the 70th successful registrant.
Meanwhile, according to a report released yesterday by the Ministry of the Interior, a total of 6,170 couples filed for their marriage registrations on Sept. 9, marking the highest daily total recorded in the past 20 years.
The date is seen as auspicious because of the series of nines, which in Mandarin is a homonym for "long-lasting."
This year is the 99th year on the ROC calendar.
On another date that was also considered propitious — Oct. 10 —- 2,527 couples registered their marriages, eight times the daily average of 300 couples last year, the report showed.
The number 10 implies completeness and perfection in Chinese culture.
Comments will be moderated. Keep comments relevant to the article. Remarks containing abusive and obscene language, personal attacks of any kind or promotion will be removed and the user banned. Final decision will be at the discretion of the Taipei Times.