2010 ELECTIONS: William Lai takes Tainan by storm
LANDSLIDE Celebrations came early in the traditional DPP stronghold of Tainan, as Lai declared victory by 6:40pm after triumphs in every constituency in the city
For the doctor-turned-politician William Lai (賴清德), the mission assigned by his Democratic Progressive Party (DPP) for Greater Tainan was not only to win, but to win by a landslide margin in hopes of increasing the party's overall share of the votes.
That mission was accomplished yesterday when Lai defeated the Chinese Nationalist Party's (KMT) candidate, Kuo Tien-tsai (郭添財), by 20.82 percentage points, or 213,701 votes.
Lai garnered 619,897 votes, or 60.41 percent, compared with Kuo's 406,196 votes, or 39.59 percent.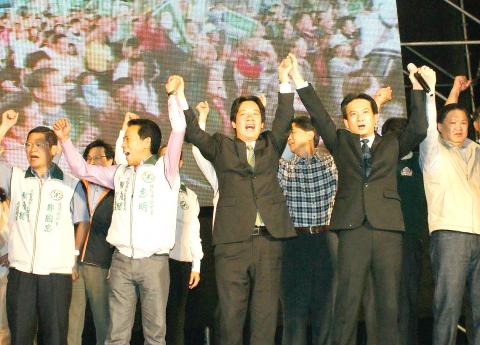 The Democratic Progressive Party mayoral candidate for Greater Tainan, William Lai, center, celebrates his victory over Chinese Nationalist Paryt (KMT) candidate Kuo Tien-tsai, with members of his campaign team yesterday evening.
PHOTO: WU CHUN-FENG, TAIPEI TIMES
At Lai's campaign office in Yongkang City (永康), the most populous area in Tainan County, the office and its surrounding area started to liven up when vote-counting began at 4pm.
People poured onto the already blocked-off street outside the office, appearing in high spirits as they chatted with each other, while enjoying local gourmet freshly cooked by campaign volunteers who were preparing food non-stop for the -expected celebration rally later on.
At 6:40pm, when the votes Lai received had exceeded half of the ballots cast, Lai took the stage, bowed and thanked the joyful crowd.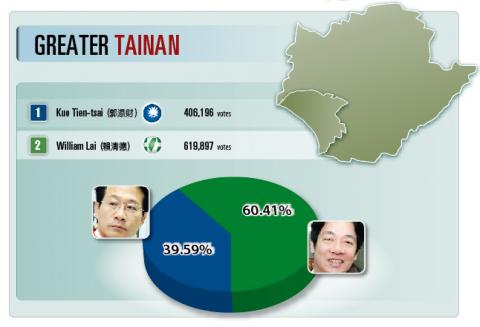 GRAPHIC: TT
"This is the biggest honor in my life. It is also a great responsibility," Lai said.
Lai vowed to make the future Greater Tainan into a "cultural capital," to be "integral" and "non-partisan" during his term in office and to efficiently use the limited budget that will be allocated to Greater Tainan for its development and construction.
"We have precious resources here in terms of culture, nature, technological development and tourism. It is my dream to have young people live in hope, middle-aged people realize dreams and for elderly people to feel happiness in the city," Lai said.
That Lai has maintained his status as frontrunner in the mayoral race for Greater Tainan — which will come into being after Tainan city and county are merged next month — is generally attributed to the political leanings of the whole region, which generally favors the pan-green camp.
The DPP has been at the helm of the Tainan County Government since 1993, while the KMT has been shut out in Tainan City for 13 years.
Aside from party sympathies, Chen Chung-ho (陳中和), a supporter, said Lai has over the years built up an image in Tainan of an industrious politician, as he always follows up if complaints he receives from constituents are dealt with satisfactorily.
"He is a man of principle. He serves his constituents well, as he comes back to Tainan at least once a week. Most importantly, he means what he says," Chen said.
Having served one term in the now-defunct National Assembly and as legislator for a constituency in Tainan City, Lai yesterday swept not only all the constituencies in Tainan City, but also took most Tainan County constituencies by a ratio of six to four.
Kuo, elected legislator in his hometown district in Tainan County from 2001 to 2004, received less votes than when he ran five years ago for Tainan County commissioner and lost to DPP Tainan County Commissioner Su -Huan-chih (蘇煥智). That defeat was the second unsuccessful -attempt in two years following his failed bid to keep his legislative seat in 2004.
Ting Jen-fang (丁仁方), a spokesman for Kuo and a professor at National Cheng Kung University, said Kuo did not secure as many votes as expected in certain areas such as Sinying City (新營) and Houbi (後壁), Dongshan (東山) and Guanmiao (關廟) townships.
"We had originally hoped to win more votes in these areas to make up for the losses in Tainan City, but things did not turn out as expected," Ting said.
An observer of local organizations said the election result showed that KMT Secretary--General King Pu-tsung (金溥聰) failed to integrate the party's local factions.
"During the campaign period, King came to Tainan frequently to speak to local faction leaders. It seems that they did not mobilize their supporters," said the observer, who wished not be named.
On the eve of the election, Kuo went down on his knees at a rally — as did his wife — pleading for votes.
After the loss, Kuo vowed that he would no longer take part in politics.
"I give the future of Greater Tainan my deepest blessings," Kuo said.
Comments will be moderated. Keep comments relevant to the article. Remarks containing abusive and obscene language, personal attacks of any kind or promotion will be removed and the user banned. Final decision will be at the discretion of the Taipei Times.