FEATURE: One man's drive to raise English level in Taiwan
Despite his slender and fragile body, Liu Yun-guo (劉雲适) has a brave heart. At 79, he is keenly aware of and amused by the fact that his life is fatefully linked to English: English news-writing and Chinese-English dictionary compilation.
Although he has a string of degrees, titles and accomplishments behind his name, Liu remains modest and humble.
To promote his dictionary — the Chuan-shi Chinese-English Thesaurus, which he compiled single-handedly with 20 years of painstaking effort, but without a publisher willing to print it because of its huge size and possible lack of marketability — Liu peddles his 1,952-page tome on a Taipei street teeming with cram schools and students.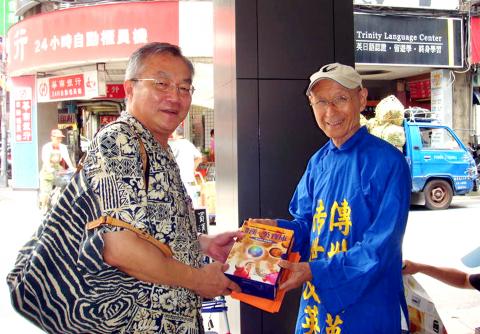 Liu Yun-guo, 79, right, poses for a photograph in Taipei on Sunday with the Chuan-shi Chinese-English Thesaurus, which took him 20 years to compile. Liu has taken to the streets to sell his thesaurus in areas filled with cram schools and students.
PHOTO: CNA
His sales pitches include buying a copy of the thesaurus and getting six free steamed buns, which he and his 66-year-old wife make at home, or buying 60 buns and getting a free thesaurus.
Some friends have tried to dissuade him from selling his book on the street, saying it is not befitting his social status and old age. His wife, who retired from a career at Bank of Taiwan, has also tried in vain to stop him.
"What does status count for? What counts is when the book is sold and used," said Liu, who brings to mind Wu Xun (武訓), a legendary Qing Dynasty beggar who saved every penny he received on the streets to establish schools to provide children with the education he had craved, but could never get.
The son of landlords in China's Shandong Province who were vilified after the Chinese communists came to power, Liu fled to Taiwan with the Nationalist troops in 1949 as a young soldier.
A hard worker, he graduated from a military officer candidate school before being assigned as a military inspector, working under then commander-in-chief General Sun Li-jen (孫立人).
It was at that time Liu developed his close relationship with English, using all his off-duty time and holidays to study the language.
One day, he became so angry with himself for lacking self-discipline and being easily distracted that he cut off his left pinky with a kitchen knife.
With the blood from the severed finger, he scrawled on a piece of paper: "Yun-guo, shameful."
He framed the blood scrawl and put it on his desk to serve as a reminder.
So great was his dedication to English that he decided to leave the military at the age of 26 and enter civilian life because he wanted to study English full time.
He split his time between studying in the daytime and pedaling a pedicab at night to earn a living. While pedaling, he often retrieved his notebook from his pocket to memorize a new vocabulary word. On his way home at midnight, when there were few pedestrians on the streets, he would recite his lessons aloud while pedaling.
Eventually, he passed the highly competitive joint college examination and entered National Chengchi University, where he scored at the top of his class for five semesters and second in his class for three.
Liu joined the English Department of the Central News Agency even before he graduated from university to work as an English reporter and assistant editor.
However, his career there was brief, the result of a short-lived, disturbing marriage and some unfounded accusations leveled against him because he had been General Sun's right-hand man, who was exiled to the US by then-president Chiang Kai-shek (蔣介石) for his involvement in an attempted coup.
He published his first English book, English Writing and Reporting, in 1976. That volume was followed by Liu's Thesaurus of Commonly Used English Expressions, an 800-page book published in 1976, which was the precursor to the Chuan-shi Chinese-English Thesaurus.
Throughout his career, Liu was always troubled by the lack of usable Chinese-English dictionaries.
In an attempt to address that deficiency and promote the use of English, Liu spent 20 years reading English and American sinologists' translations and writings, as well as international news agency dispatches.
"Only Chinese speakers proficient in English can differentiate what is graceful and precise from that which is not," he said.
On Chinese Nationalist Party (KMT) Sinbei City mayoral candidate Eric Chu's (朱立倫) recent comment about the "grave humiliation" of Taiwanese students lagging so far behind their Japanese and South Korean counterparts in English proficiency, Liu said he wondered what Chu would say if he was aware of the sheer number of glaring errors made in the official English-language Web sites of the government, as well as leading companies and universities in Taiwan.
The most recent — a slogan devised by the National Immigration Agency — is a case in point. "NIA — We care what you care" has already been lambasted by native English speakers for its complete lack of grammar, meaning and punch.
An old man now, Liu's desire to help raise the English proficiency level of the Taiwanese public through his book remains strong.
"I will devote my old bones to do anything toward that goal. The buns-for-books drive on the street? It's nothing, if the thesaurus can be distributed," he said.
Comments will be moderated. Keep comments relevant to the article. Remarks containing abusive and obscene language, personal attacks of any kind or promotion will be removed and the user banned. Final decision will be at the discretion of the Taipei Times.