City closing roads for flora exposition
INCONVENIENCE A DPP councilor said Taipei should compensate residents for their trouble, while Mayor Hau Lung-bin said it was for the good of the country
The Taipei City Government will close several major traffic routes for more than nine months from tomorrow, ahead of the start of the Taipei International Flora Expo in November.
Xinsheng N Road between Binjiang Street and Minzhu E Road, Binjiang Street between Xinsheng N Road and Songjiang Road, and the Xinsheng Overpass' exit on Binjiang Street will be closed to traffic from tomorrow to April 30 because of the exhibition, which will run from Nov. 6 to April 25, Taipei City's Department of Transportation said yesterday.
The closed roads are on the routes to four of the expo's major exhibition sites — Yuanshan Park, Xinsheng Park, Dajia Riverside Park and Zhongshan Fine Arts Park.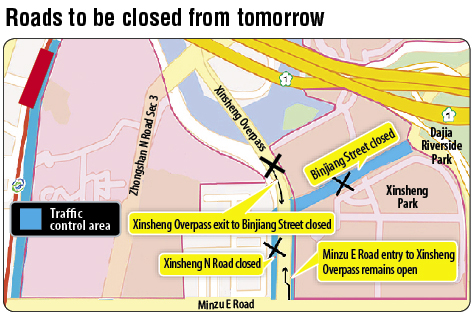 The rerouting will affect more than 16,000 vehicles a day, according to the department's estimates.
Drivers are encouraged to take Dazhi Bridge, Zhongshan N Road and Jianguo Overpass during the shutdown, while the department will offer shuttle buses for travel to the exhibition sites.
Democratic Progressive Party (DPP) Taipei City Councilor Chien Yu-yen (簡余晏) said that the rerouting would greatly inconvenience area residents, and called on the city government to offer compensation to residents of Datong (大同) and Shilin (士林) districts.
"The city government is incapable of planning such an international event and did a poor job with the design of the expo sites and the traffic plans. Taipei residents should not have to pay a price for the city government's incompetence," Chien said.
Chien said closing the roads would cause residents at least one more hour of commute during rush hour, and traffic around the expo sites, as well as Shihlin and Datong districts would enter the "dark ages" when the expo begins in November.
Taipei Mayor Hau Lung-bin (郝龍斌) defended the department's efforts to reduce traffic congestion and called on Taipei residents to endure the inconvenience for the sake of the expo.
"The flora expo is an international event that will promote Taipei City to the international community. Taipei residents should understand that and cooperate with us," he said.
Division chief Sheng Huei-hung (沈慧虹) said the department had sent out more than 350,000 text messages to nearby residents informing them about the traffic adjustment plan.
The department will hold public hearings with Shilin and Datong residents later this month to discuss compensation plans, Sheng said.
It will also offer free shuttle bus services near the MRT Yuanshan Station on Jiuquan Street, she said.
Comments will be moderated. Keep comments relevant to the article. Remarks containing abusive and obscene language, personal attacks of any kind or promotion will be removed and the user banned. Final decision will be at the discretion of the Taipei Times.