Minister promotes China trade pact at US forum
Government Information Office Minister Johnny Chiang (江啟臣) said on Tuesday that the cross-strait Economic Cooperation Framework Agreement (ECFA) was a giant step forward in overcoming the country's economic isolation, building trade and speeding up Asian integration.
Chiang said the "momentous" deal would tighten the bonds between Taiwan's high-tech economy and China's lucrative markets, but added that it was "not the end goal."
The government now plans to hold talks with Taiwan's other trading partners in a push for other trade deals to become more integrated into the Asian and global economy, he said.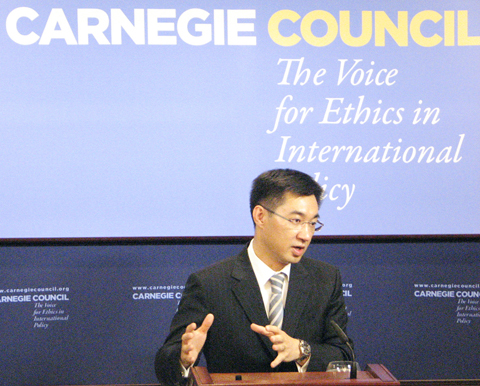 Government Information Office Minister Johnny Chiang speaks at a forum on the theme of "Taiwan: Building Partnerships for Asia-Pacific Economic Integration" at the Carnegie Council in New York City on Tuesday.
PHOTO: CNA
"Trade is Taiwan's lifeline," Chiang told a luncheon sponsored by the Carnegie Council and the Overseas Press Club of America. "So we cannot allow ourselves to become economically marginalized."
Chinese President Hu Jintao (胡錦濤) hailed the pact as historic, saying it signaled progress on deepening cross-strait ties.
However, Taiwan's opposition says the pact will hurt the nation's economy by making it overly dependent on China and ultimately pave the way for political unification, its greatest fear.
China is Taiwan's largest trading partner, with two-way trade accounting for about 29 percent of Taiwan's total external trade last year and 41 percent of its exports, Chiang said.
However, he insisted Taiwan was not putting "all its eggs in one basket" and has put the other 49 percent into India and other emerging markets "to diversify our trade and exports."
Asked about the opposition's concerns that the trade deal would lead to political integration, Chiang said President Ma Ying-jeou (馬英九) has said that his administration would not deal with the issues of unification, independence or the use of force across the Taiwan Strait.
The trade agreement "represents three giant steps forward," Chiang said.
"Number one is one giant step for overcoming Taiwan's economic isolation. Number two, it is also one giant step toward mutually beneficial cross-strait trade and cooperation. And finally, it is one giant step for speeding up integration of Asia," he said.
Comments will be moderated. Keep comments relevant to the article. Remarks containing abusive and obscene language, personal attacks of any kind or promotion will be removed and the user banned. Final decision will be at the discretion of the Taipei Times.