ECFA: US welcomes the signing of cross-strait trade pact
The US has officially welcomed the Economic Cooperation Framework Agreement (ECFA), which Taiwan and China signed on Tuesday.
After refusing to comment on the agreement while it was under negotiation, the US State Department made a short statement following its signing.
"I would like to note that today the chairpersons of China's Association for Relations Across the Taiwan Strait and Taiwan's Straits Exchange Foundation signed a cross-strait economic cooperation framework agreement," acting deputy spokesman Gordon Duguid said during his regular press briefing on Tuesday. "The United States welcomes the increased dialogue and interaction between the PRC [People's Republic of China] and Taiwan that this new agreement represents."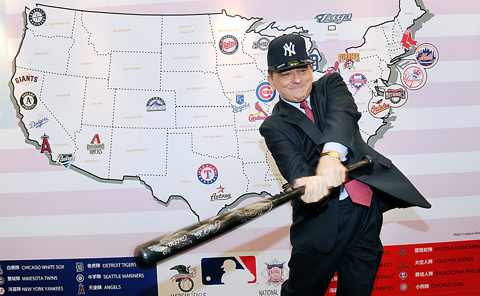 American Institute in Taiwan Director William Stanton swings a baseball bat signed by New York Yankees star Derek Jeter at an America Weeks promotion in a Shin Kong ­Mitsukoshi department store in Taipei yesterday.
PHOTO: LO PEI-DER, TAIPEI TIMES
"We are encouraged by recent improvements in cross-strait relations and hope those relations will continue to expand and develop," Duguid said.
Later, Duguid was asked if the ECFA would bring any changes to the region and if other countries might want to have similar ties to China.
"China being an economic power, I don't think it's limited to other states in the region. Most of the states in the region have very strong economic relations with China," he said. "This particular agreement is one of a framework for tariffs, and so the two, both PRC and Taiwan, will be looking at their tariff structure to try and increase trade."
At the G20 Summit in Canada last week, US President Barack Obama urged the US Congress to pass a free-trade agreement (FTA) with South Korea and promised that he would work for it.
This week, the US Chamber of Commerce endorsed a South Korean FTA as "a top priority for our country" and as a "linchpin to continuing our economic recovery."
"This pact has the potential to be a model for other agreements across the Asia-Pacific region," said Tami Overby, the chamber's vice president for Asia. "This is a region that now accounts for half of the global economy. We're talking about the future here."
Obama's interest in pushing for a Korean FTA has brought new optimism to supporters of the stalled proposal for a US FTA with Taiwan.
"If President Obama is finally moving forward with a free-trade agenda, then this helps the case for a US-Taiwan FTA," said Rupert Hammond-Chambers, president of the US-Taiwan Business Council.
He said if Obama were able to reach consensus with the Hill and his union allies on a trade ­framework with South Korea, then it would open up the possibility that the US would re-engage with Asia on trade issues.
"This includes Taiwan, where the recently consummated ECFA leaves the US conspicuously absent from north Asia liberalization," Hammond-Chambers said.
In Taipei, American Institute in Taiwan Director William Stanton yesterday said that the US government "was encouraged by the development" that Taiwan and China signed the ECFA.
However, Stanton said the US government had no comment on the ECFA per se because it hadn't read the complete text and hadn't had a chance to study it.
"You know there are many particulars [that] may rise, but in general, we emphasize its positive development. [The ECFA] indicates the level of interaction and ­cooperation, and that's welcome for the region and for the world. It's good," he said.
On US-Taiwan trade relationships, Stanton said the US wished to resume negotiations for the Trade and Investment Framework Agreement (TIFA) with Taiwan and make progress on it.
Negotiations on the TIFA talks have been stalled since July 2007 over Taiwan's ban on US beef.
"We haven't had trade talks for a while because of the dispute [over] the beef, but we hope to resume," Stanton said.
The US has a great trading relationship with Taiwan, its ninth-­largest trading partner, he said.
The EU yesterday issued a statement welcoming the ECFA, sayingexpansion of cross-strait economic relations has the potential to benefit trade and investment links in East Asia.
Comments will be moderated. Keep comments relevant to the article. Remarks containing abusive and obscene language, personal attacks of any kind or promotion will be removed and the user banned. Final decision will be at the discretion of the Taipei Times.