DPP holds TV presentation over Greater Tainan
Five Democratic Progressive Party (DPP) hopefuls vying for the party's nomination in the year-end Greater Tainan election held a televised session yesterday presenting their campaign platforms.
The candidates touched on a number of issues, including city-county income disparities, problems with economic development and government subsidies.
Tainan Mayor Hsu Tain-tsair (許添財) said that if elected, he would continue to develop the Tainan area, including the expansion of science and industrial parks. He also touted his record as mayor, saying that he had reduced unemployment and cleaned up many of the area's rivers.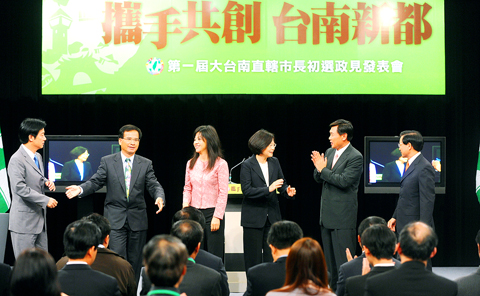 Democratic Progressive Party Chairperson Tsai Ing-wen, third right, appears on stage at the campaign platform presentation held for the five aspirants vying for the party? nomination for the year-end 衫ayoral election in Greater Tainan. She is joined by the five candidates, from left to right, Legislator William Lai, Tainan County Commissioner Su Huan-chih, legislators Yeh Yi-jin and Lee Chun-yee, and Tainan Mayor Hsu Tain-tsair.
PHOTO: CHANG CHIA-MING,TAIPEI TIMES
Tainan County Commissioner Su Huan-chih (蘇煥智) challenged Hsu on what he said was the mayor's uneven development strategy, saying it ignored Tainan County.
"We should instead be focusing on a dual development platform creating two focus cities," Su said.
Su called for the creation of a new government center in one of the cities and an Asia-Pacific logistics center in the other. He also promised to create jobs by developing green, high tech industries in a "Greater Tainan Software Park."
Meanwhile, DPP Legislator Lee Chun-yee (李俊毅) said that voters should reject both incumbents, adding that the party needs to encourage new talent to address the generational divide in its ranks.
"New people need to have a chance to prove themselves; it's part of the DPP spirit to give [the next generation] support," Lee said, using DPP Chairperson Tsai Ing-wen (蔡英文) as an example of a gamble on new talent that had paid off.
Hsu countered by saying that it would take the sort of experience that only a sitting mayor has to ensure that the merger between the city and the county is completed successfully.
The merger between the two areas will take place following the year-end elections along with mergers in the Greater Kaohsiung and Greater Taichung areas. The merger, which will create a Greater Tainan municipality, will also give the city more control over its budget and increased government subsidies.
DPP legislators William Lai (賴清德) and Yeh Yi-jin (葉宜津) said if they were elected they would ensure that Greater Tainan got a fairer share of central government revenue and promised to provide increased subsidies for childcare and seniors.
"As the only female candidate and a mother of three, I have a different approach to dealing with social issues," Yeh said.
She promised to introduce a policy that would subsidize families to the tune of NT$12,000 per infant per year.
Lai said it was important to create subsidies to minimize the impact that an economic cooperation framework agreement (ECFA) with China would have on farmers and the agricultural sector. Lai is also campaigning on a platform of transforming Greater Tainan into Taiwan's cultural capital.
The session, which was broadcast live on television channels FTV News (民視) and SET TV (三立), was the first time the DPP has used this format during the ­nomination phase for party candidates. A similar plan for its candidates in the Greater Kaohsiung election was cancelled after they disagreed on the format.
The DPP will announce its nominees for Tainan and Kaohsiung by May 19 following opinion polls that will be held the week prior. Nominees in the cities of Taipei and Sinbei, as well as Greater Taichung, will be selected by a nine-member nomination team headed by DPP Secretary-General Su Jia-chyuan (蘇嘉全).
Comments will be moderated. Keep comments relevant to the article. Remarks containing abusive and obscene language, personal attacks of any kind or promotion will be removed and the user banned. Final decision will be at the discretion of the Taipei Times.