Cold front to hit Thursday
SPREADING MISERY With the CWB forecasting lower temperatures, EIA staff say more dust storms are likely on their way from China — and moving southward
The air quality could worsen this week as the Central Weather Bureau (CWB) said yesterday that another cold air mass was scheduled to arrive on Thursday.
The bureau said rain would start appearing in the northern and eastern regions tomorrow because of a new frontal system. When the cold air mass from the north arrives on Thursday, the temperature in the north and south may drop by 9ºC. Temperatures in other regions are also expected to drop by between 4ºC to 5ºC.
Lows on Friday and Saturday may drop to 12ºC, the bureau said.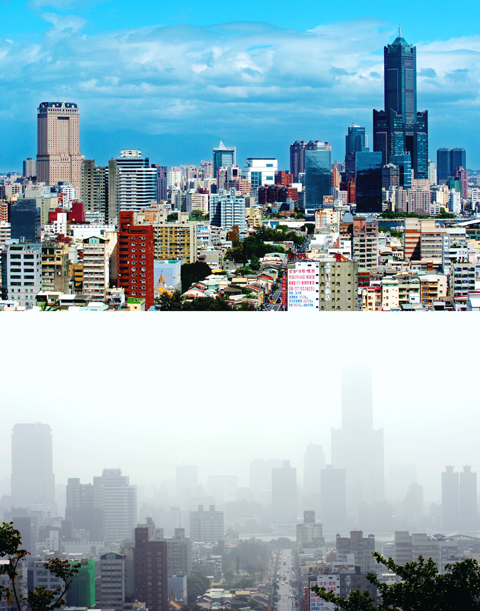 The Tuntex Sky Tower, the tallest building in Kaohsiung City, is shown before, top, and after, bottom, air quality in the city declined severely yesterday due to massive amounts of sand and dust blown in from China.
PHOTO: CHANG CHUNG-YI, TAIPEI TIMES
Chu Yu-chi (朱雨其), director-general of the environmental monitoring and information management unit at the Environmental Protection Administration (EPA), said that the nation is likely to experience more dust storms.
"Because dust storms have been continuing in northern China, another wave of dust storms may invade Taiwan with the arrival of the frontal system," Chu said.
The EPA said Taiwan remained under the pall of a dust storm yesterday, which spread to the south.
The observation centers in Nanzi (楠梓), Tainan, Annan (安南) and seven other places reported density of particulate matter (PM) exceeding 1,000 micrograms per hour yesterday morning. By 3pm only six places had reported PM density exceeding 500 microgram per cubic meter per hour, including Guanyin (觀音), Linyuan (林園) and Kinmen.
The poor air quality in central and southern regions is expected to continue today.
CWB Forecast Center Director Cheng Ming-dean (鄭明典) said the upper air stream would usually bring part of the dust storm to the east of Taiwan, whereas the lower air stream would bring the rest of dust storm to Taiwan.
"This time, the air stream did not separate until it hit Taiwan, which caused a severe damage," he said.
Also See: Hazardous sandstorms blanket China
Comments will be moderated. Keep comments relevant to the article. Remarks containing abusive and obscene language, personal attacks of any kind or promotion will be removed and the user banned. Final decision will be at the discretion of the Taipei Times.