Prize winners linked to KMT, Presidential Office
'EMBARRASSED' The brothers of Presidential Office Secretary-General Liao Liou-yi and former foreign minister Fredrick Chien won this year's presidential science prizes
This year's Presidential Science Prize winners were announced yesterday. One of the three winners has a close relationship with a Presidential Office official, while another has close ties to the Chinese Nationalist Party (KMT) administration.
The three winners this year are Chien Shu (錢煦), a member of Academia Sinica and director of the Institute of Engineering in Medicine; Liao I Chiu (廖一久), a member of Academia Sinica and aquaculture professor at National Taiwan University; and Paul Lee (李壬癸), a member of Academia Sinica's Institute of Linguistics.
Chien is an elder brother of former minister of foreign affairs Fredrick Chien (錢復), while Liao is the elder brother of Presidential Office Secretary-General Liao Liou-yi (廖了以).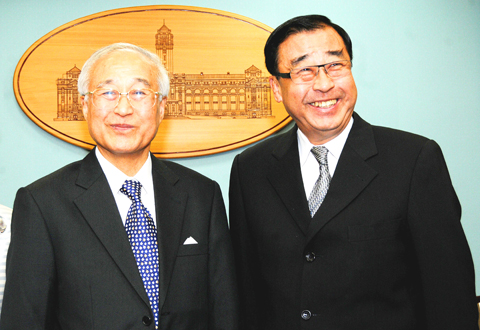 Presidential Office Secretary-General Liao Liou-yi, right, poses with his elder brother, professor of aquaculture Liao I Chiu, at the Presidential Office in Taipei yesterday. Liao Liou-yi yesterday announced the recipients of this year's Presidential Science Prize, one of whom is his brother.
PHOTO: CNA
Liao Liou-yi, who introduced the winners to the media yesterday, said President Ma Ying-jeou (馬英九) would present the awards to them at the Presidential Office on Friday.
The biennial award was created by former president Chen Shui-bian (陳水扁) in 2001. Each winner will receive a trophy and a cash prize of NT$2 million (US$62,000).
Chien Shu said he never thought he would win an award when he began his research 30 years ago and that he felt "embarrassed by this undeserved praise."
He joined Academia Sinica in 1976 and began conducting research at the Department of Bioengineering and Medicine at the University of California, San Diego, in 1988.
Liao I Chiu began his research in aquaculture when he returned to Taiwan in July 1968 after obtaining a doctorate in agriculture in Japan.
His long career at the Taiwan Agricultural Research Institute has helped Taiwan gain a reputation as "the kingdom of breeding," while Liao has been dubbed "the father of black tiger prawn breeding."
He was selected as a member of the Academia Sinica in 1992 and has published many papers in national and international publications.
Liao I Chiu thanked his co-workers and family for their assistance and support.
While he once stayed up for seven days and nights observing the activities of shrimps, his wife said this luckily did not happen after they got married.
Lee was the first Taiwanese researcher to profile the migration of Austronesian peoples and make written records of 15 of the Austronesian languages.
He began his research while pursuing his doctoral degree in linguistics at the University of Hawaii from 1967 to 1970.
He has been studying Taiwan's Austronesian languages and dialects since he joined Academia Sinica in 1970.
Describing his long research career as "forlorn," Lee said what kept him going was his interest and strong sense of calling.
"If I don't do it, who will?" he said. "Besides, it is a meaningful job."
Comments will be moderated. Keep comments relevant to the article. Remarks containing abusive and obscene language, personal attacks of any kind or promotion will be removed and the user banned. Final decision will be at the discretion of the Taipei Times.