DPP firm on changing referendum law
The Democratic Progressive Party (DPP) will do whatever it takes to create a more comprehensive referendum law, DPP Chairperson Tsai Ing-wen (蔡英文) said yesterday.
She said the government's decision on Thursday to veto the party's petition to launch a referendum on a cross-strait trade pact was "disappointing" and "unacceptable."
The DPP will appeal the decision and demand a constitutional interpretation if necessary, she said at a press conference in Taipei.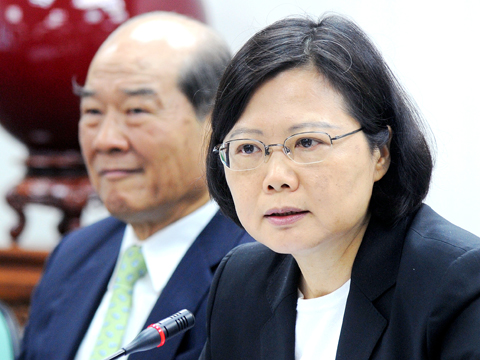 Democratic Progressive Party (DPP) Chairperson Tsai Ing-wen, right, and Taiwan Solidarity Union Chairman Huang Kun-huei attend a press conference in Taipei yesterday.
PHOTO: LU CHUN-WEI, TAIPEI TIMES
On Thursday, the Executive Yuan's Referendum Review Committee rejected the DPP's petition for a referendum on the economic cooperation framework agreement (ECFA) that the government plans to ink with Beijing.
The DPP had hoped to have the nation's voters answer the question: "Do you agree that the government should put the ECFA that Taiwan signs with China to a referendum?"
Of the 19 members of the 21-member committee who attended Thursday's review, only four voted in favor of the DPP's proposal, while two abstained and the rest voted to reject it on the grounds that it is based on a hypothetical situation that does not meet the criteria of the Referendum Act (公投法).
Tsai rejected this line of thinking, saying that holding a referendum on a trade pact that poses potential threats to local industries one year after it goes into effect would be "too little, too late."
"We can safely conclude that the members of the review committee are either ultra-conservative or hold biased political opinions," Tsai said, adding that the purpose behind the DPP's proposal was to highlight the shortcomings of the current Referendum Act.
The crux of the DPP petition, she said, was to urge the government to voluntarily hold referendums on major issues, such as an ECFA, that affect the livelihood of every person in Taiwan.
The ECFA is more than an economic trade deal, and touches upon Taiwan's status as a sovereign nation, she said.
Also attending the press ­conference, Taiwan Solidarity Union ­Chairman Huang Kun-huei (黃昆輝) said he suspected the committee was pressured to object to the DPP's petition to offset the wrath of Beijing about the Dalai Lama's upcoming visit.
Huang said that if Penghu County can be allowed to hold a referendum on building casinos on the island, it made no sense for the government to block a referendum on an agreement that could affect the lives of all Taiwanese people.
ADDITIONAL REPORTING BY CNA
Comments will be moderated. Keep comments relevant to the article. Remarks containing abusive and obscene language, personal attacks of any kind or promotion will be removed and the user banned. Final decision will be at the discretion of the Taipei Times.