Foreign affairs spokesman admits Honduras gaffe
Ministry of Foreign Affairs (MOFA) Spokesman Henry Chen (陳銘政) yesterday admitted giving reporters incorrect information on the situation in Honduras on Sunday, but said he was under no obligation to respond to media inquiries in a timely manner.
Chen was the target of ridicule from several Chinese-language newspapers after he told reporters on Sunday that Honduras was not experiencing a coup even though Honduran President Manuel Zelaya had been arrested by the military and forcibly exiled to Costa Rica two hours before he made his remarks.
The spokesman called reporters back 24 minutes later to set the record straight and said that, according to information from the Republic of China embassy in Honduras, a coup d'etat had indeed taken place and that Zelaya had been yanked from his bed by the armed forces in the middle of the night.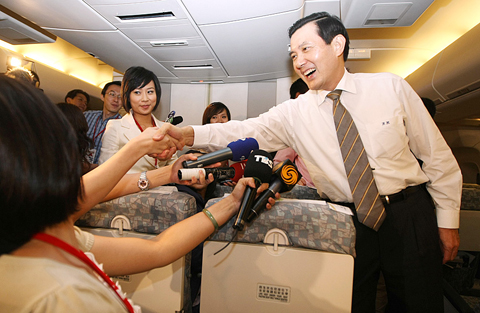 President Ma Ying-jeou shakes hands with reporters on board his plane after landing for a transit stop in San Francisco on Monday on his way to the inauguration of Panamanian president-elect Ricardo Martinelli today.
PHOTO: CNA
Members of the media and the pan-green camp accused the ministry of being slow and oblivious to the latest developments in one of Taiwan's allies.
What made it worse, they said, was that President Ma Ying-jeou (馬英九) had been scheduled to arrive in Tegucigalpa on Friday for a two-day visit.
Speaking to reporters yesterday, Chen said he would accept responsibility for what he said, but added that he had spoken "too fast" because he "trusted" reporters and that he could easily have waited 30 minutes to an hour for an official statement from his superiors before responding.
"The fate of the foreign ministry is that we can be misunderstood, but we can never be wrong. This is why we are always adamant that we must receive an official statement before speaking to the press," he said.
Chen said the president had no plan to meet with Zelaya while they are both in Nicaragua, but added that "anything could happen."
Chen later told reporters that Taiwan would recognize whoever has been legally elected through democratic means and that Taipei had already made contact with Roberto Micheletti, who has been named as interim president until the Honduran presidential term ends in January.
Taiwan last night joined several other countries, including the US, in strongly condemning the coup in Honduras.
Also See:

href="http://www.taipeitimes.com/News/editorials

/archives/2008/05/20/2003447521">ANALYSIS: Obama turns to democracy, takes stand on Honduras
Comments will be moderated. Keep comments relevant to the article. Remarks containing abusive and obscene language, personal attacks of any kind or promotion will be removed and the user banned. Final decision will be at the discretion of the Taipei Times.