Fraudulent flyer deported again
A 33 year-old Chinese-born Canadian woman surnamed Cheng (程) was repatriated to Canada on Monday after attempting to use another person's identity to board a plane, the National Immigration Agency (NIA) said yesterday.
This was the woman's second attempt this month to board an aircraft using another person's boarding pass, said the NIA, adding that Cheng was now prohibited from entering Taiwan for three years.
The NIA said Cheng's first attempt was on June 1 when she used United Airline's self-check-in system at Taiwan Taoyuan International Airport to obtain the boarding pass of another woman surnamed Cheng (鄭), whose last name used the same English spelling as her name.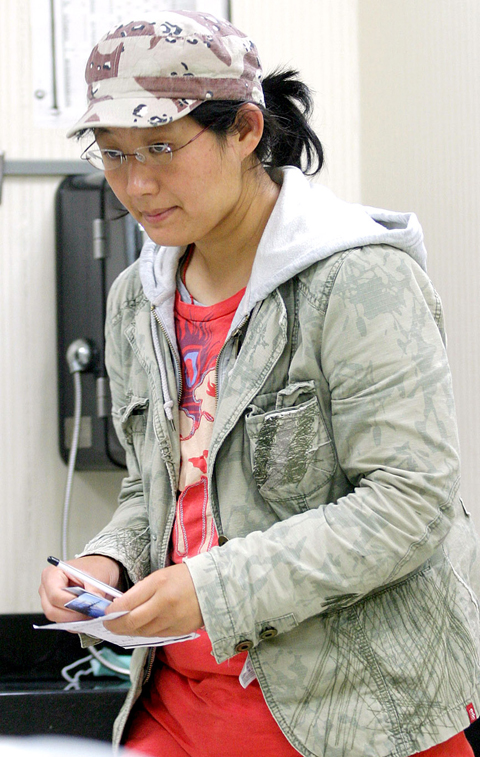 A Canadian woman surnamed Cheng is pictured before being deported to Canada on Monday, having twice boarded or attempted to board aircraft using another person's boarding pass.
PHOTO: CNA
NO-SHOW
She was able to pass through immigration, but for unknown reasons, chose not to board the flight and even stayed at the transit hotel for one day.
The airlines notified authorities after the passenger was a no-show.
The woman was deported to Hong Kong on the night of June 2.
The NIA said that the woman re-entered Taiwan from Hong Kong last Wednesday and successfully obtained another person's boarding pass, again using the self-check-in system.
QUESTIONING
The immigration agents immediately brought her in for questioning when it was discovered the name on her passport did not match the name on her boarding pass as she attempted to pass customs.
The NIA said the woman has already entered Taiwan seven times for various lengths of time. The NIA said her longest stay in Taiwan was 30 days.
The Canadian Trade Office in Taipei said it had no comment on the case.
Comments will be moderated. Keep comments relevant to the article. Remarks containing abusive and obscene language, personal attacks of any kind or promotion will be removed and the user banned. Final decision will be at the discretion of the Taipei Times.