Chan dropped from Deaflympics
ACTION STAR REACTION A Facebook group set up by Hong Kong users calling for Jackie Chan to be exiled to North Korea drew more than 2,600 members
Taipei Mayor Hau Lung-bin (郝龍斌) said yesterday that action star Jackie Chan's (成龍) tenure as ambassador for the Deaflympics ended last year and urged the public not to politicize sports, amid a furor over the celebrity's anti-democratic remarks.
Chan's position as an ambassador for September's Deaflympics, which will be the biggest sports event ever hosted by Taipei, sparked controversy after he described freedom in Taiwan as "chaotic" during a panel discussion at the annual Boao Forum in Hainan, China, last week.
"Each of the ambassadors we invited has a different mission and Jackie Chan's work was done last year ... The Deaflympics is an international sports event, and we don't want the event to become politicized," Hau said at Taipei City Hall.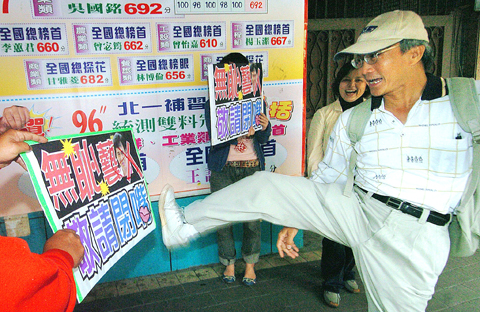 A man kicks a placard bearing Jackie Chan's photo and the words "Shameless actor ­— please shut up" during a protest at Chan's office in Taipei yesterday, following controversial remarks about Taiwan by the movie star at last week's Boao Forum in Hainan, China.
PHOTO: CHIEN JUNG-FONG, TAIPEI TIMES
Hau's remarks came as Chan's spokesman said the star's comments had been taken out of context.
Solon So (蘇志游), the chief executive of Chan's company JC Group and his main spokesman, told reporters in a telephone interview yesterday that the actor was referring to freedom in the entertainment industry and not Chinese society at large.
"Some people with ulterior motives deliberately misinterpreted what he was saying," So said.
The comments came as Facebook users and Chinese academics condemned the veteran actor on the Internet in a spreading backlash.
A group of Chinese academics published a letter online on Monday accusing Chan of "not understanding how precious freedom is," even though "free Hong Kong provided the conditions for you to become an international action star."
A Facebook group set up by Hong Kong users calling for Chan to be exiled to North Korea had drawn more than 2,600 members by yesterday afternoon.
The group also posted form letters urging Hong Kong's Baptist University and Academy for Performing Arts to strip Chan of honorary degrees they had given the actor.
Emile Sheng (盛治仁), chairman of the Taipei Deaflympics Organizing Committee, said Chan was only one of more than 10 ambassadors the city government has invited to promote the event.
Chan came to Taiwan in September to participate in one of the promotional activities and shot — for free — a TV advertisement for the sports event, Sheng said.
Other ambassadors, including singer A-Mei (張惠妹) and actress Lin Ching-hsia (林青霞), had also promoted the event for the city government on different occasions, he said.
Asked whether Chan would be invited to the opening ceremony, Hau said the city government would not invite him to join the ceremony, but would not refuse if the actor wanted to attend.
"We are inviting athletes, important figures in the sports field and foreign guests, but we won't say no to those who want to come," he said.
Sheng said the organizing committee had invited six-time NBA champion Scottie Pippen to promote the Deaflympics this weekend and would continue to invite other well-known athletes and celebrities to serve as ambassadors.
Pippen, a former Chicago Bulls forward, will arrive in Taipei on Friday and participate in several basketball games with local players to promote the Deaflympics, Sheng said.
Taipei won the bid to host this year's event in 2003. Over 11 days, around 4,000 athletes from 81 countries will compete in events including track and field, badminton, basketball and bowling, the committee said.
ADDITIONAL REPORTING BY AP
Comments will be moderated. Keep comments relevant to the article. Remarks containing abusive and obscene language, personal attacks of any kind or promotion will be removed and the user banned. Final decision will be at the discretion of the Taipei Times.