Casino group plans 'backward' rally
Worried that casinos may be a step backward for the country, several anti-casino activists yesterday marched backward from the location of a press conference to the Legislative Yuan, calling on more people to join a larger "backward march" on Sunday.
"Gambling will drag our economy, public security, environment, politics and morals backward," Ho Tsung-hsun (何宗勳), spokesman of the Alliance against the Legalization of Gambling, said at a press conference in Taipei yesterday. "So in our march against casinos on Sunday, we will march backward."
A clause in the Off-Shore Islands Development Act (離島建設條例) passed in January allows construction of casino resorts on off-shore islands if a majority of the residents approve it in a simplified referendum.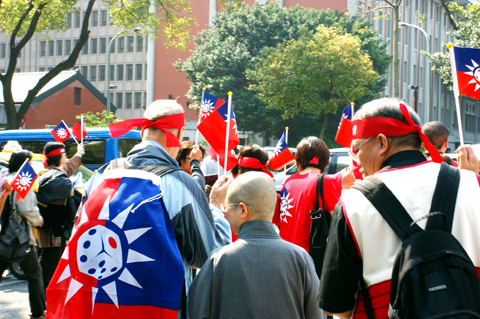 Buddhist Master Shih Chao-hui, center, Father Wu Wei-li, left, Reverend Sing 'Oalm, right, and other members of an alliance opposing the legalization of gambling yesterday walk backward to the Legislative Yuan in a protest against the January passage of a law legalizing gambling.
PHOTO: CNA
However, anti-casino activists are worried that large casino resorts may damage the ecosystem and public security. They also criticized the simplified referendum as an illegal move to avoid high thresholds in the Referendum Act (公民投票法).
To demonstrate their "backward march," dozens of anti-casino activists walked backward for about 150m from the press conference location to the front gate of the legislature.
"If you support our ideas, please join us in the march on Sunday," Ho said, adding that he expected more than 2,000 people to show up.
The parade will begin at 2pm at Liberty Square on Sunday and demonstrators will march to Ketagalan Boulevard in front of the Presidential Office.
"We want to remind President Ma Ying-jeou [馬英九], who always claims to follow the highest moral standards, to hold a real casino referendum, rather than having selfish politicians make the decision," said Buddhist Master Shih Chao-hui (釋昭慧), who is a convener of the alliance.
Comments will be moderated. Keep comments relevant to the article. Remarks containing abusive and obscene language, personal attacks of any kind or promotion will be removed and the user banned. Final decision will be at the discretion of the Taipei Times.