Ma calls for US trade, extradition deals
'LET'S GET FISCAL' The new US secretary of state is preparing to visit Beijing with an agenda that barely mentions Taiwan, and that is fine with the president
President Ma Ying-jeou (馬英九) this week called on the US to sign a free-trade agreement and bilateral extradition treaty with Taiwan, and to grant visa-free entry to Taiwanese tourists.
In an hour-long interview with the New York Times on Thursday, Ma said he was glad to have reduced tensions with China and that he expected the US to make a positive response to the three issues.
The president said he was not concerned that Taiwan was low on US Secretary of State Hillary Clinton's list of priorities during her scheduled three-day visit to Beijing from next Friday, but called on Clinton to support the "status quo" across the Taiwan Strait during her visit.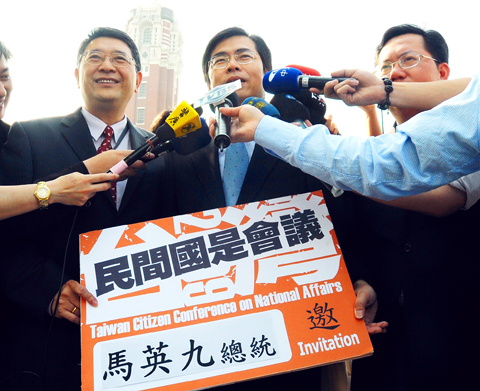 Democratic Progressive Party (DPP) Deputy Secretary-General Chen Chi-mai, center, DPP spokesman Cheng Wen-tsang, right, and Taiwan Solidarity Union (TSU) Secretary-General Lin Chih-chia stand in front of the Presidential Office yesterday with an invitation to President Ma Ying-jeou to attend a national civic affairs conference organized by the DPP and the TSU. The three visited Presidential Office Secretary-General Chan Chun-po and invited Ma to the conference.
PHOTO: WANG YI-SUNG, TAIPEI TIMES
The lessening of tensions with China "is good news for everyone; we are not dissatisfied with the fact they did not mention Taiwan," Ma said in the interview.
He had made similar remarks earlier this month in response to Washington and Beijing having made no mention of Taiwan in recent dialogue, when he said that "no news is good news."
Clinton will also visit Tokyo, Jakarta and Seoul on her Asia trip next week. Climate change, energy, North Korea, Tibet, Iran and economic issues are expected to top her agenda in Beijing.
Ma said he would carry out his campaign promise of making Taiwan a peacemaker, rather than a troublemaker, in the region and vowed to seek closer economic relations with China.
While acknowledging that the number of Chinese tourists allowed to visit Taiwan every day was lower than expected, Ma said the nation's economy continued to rely heavily on China, and so more cross-strait economic measures, including regular flights to China, would be implemented.
Ma's administration had forecast the implementation of weekend charter flights would attract 3,000 Chinese tourists per day in the initial stages, with the number expected to grow to 10,000 per day within four years.
Actual arrivals, however, remain at around 500 to 600 per day.
Recent moves to let Chinese tourists remain in the country for up to 15 days instead of 10, and to arrive in groups of as few as five people instead of the current 10-person minimum, could help increase their numbers, Ma said.
The Ma administration has also opened up charter flights, shipping and investment, and the president has said he expected regularly scheduled flights to China by the middle of this year as well.
Ma expressed confidence about the nation's economic outlook, and said his administration will continue to carry out his economic promises in an attempt to improve the economy, including implementing scheduled flights to China this year and expanding domestic demand.
He said the economy would grow if Taiwan's main export markets recovered. In the meantime, the government is rapidly stepping up spending on roads, bridges and schools and other infrastructure projects that Ma promised to build during his election campaign.
"This is high time to go fiscal — let's get fiscal," he said.
Comments will be moderated. Keep comments relevant to the article. Remarks containing abusive and obscene language, personal attacks of any kind or promotion will be removed and the user banned. Final decision will be at the discretion of the Taipei Times.