As economy sours, pets lose homes
FEWER ADOPTIONS As more and more dogs are abandoned to the streets, animal shelters are hard pressed to find the animals a suitable home to live in
As the economy continues to slump, more and more pets are finding themselves on the street, the Council of Agriculture (COA) said yesterday, calling on pet owners to act responsibly when dealing with animals' lives.
Those who intentionally dump their animals are subject to fines up to NT$75,000, the council said.
"Recently we have heard of more pet abandonment than usual, where owners dump their pets in front of pet shops, animal hospitals or outdoors. We urge people to respect lives as this will not only contribute to strays or pose problems with public safety and environmental hygiene, but also violate the law," Department of Animal Industry Director Hsu Tien-lai (許天來) said.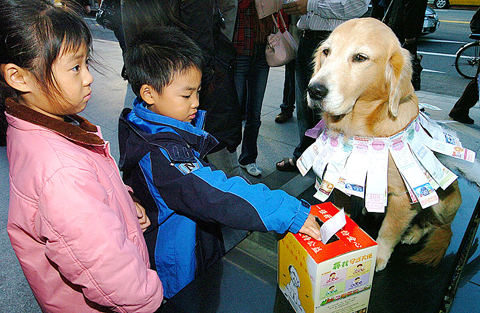 A dog wears a collar made of uniform invoice receipts yesterday to encourage visitors at a pet rights event in the Xinyi business district in Taipei to donate receipts to benefit elderly living alone.
PHOTO: CHIEN JUNG-FONG, TAIPEI TIMES
Once pets become strays, they are often collected by local environmental bureaus and placed in animal shelters. However, volunteer Paul Liu (劉柏良) at the Taipei Animal shelter in Neihu said their prospects were not optimal, as adoption rates were dropping.
"People are having a hard time taking care of themselves, so they are less likely to contemplate adopting pets," Liu said.
"Before, dogs in better condition, even the mixes, would get adopted quite easily, but in the last year adoption rates have dropped noticeably. Now it seems the shelter is half occupied by pure breeds [because of a trend to buy a certain breed of dogs as a result of movie or celebrity influence]," said Liu, who had been volunteering at the shelter for three-and-a-half years.
"More dogs are being put down," he said, adding that even the ones kept alive had a poor quality of life because "the number of dogs is simply too high … they overwhelm the volunteers and the staff."
Asked how to solve the problem, Liu said it had to be stopped at the source.
"People should not act on impulse and buy or adopt a pet because they're cute, while the government should educate people on animal protection," Liu said, adding that people should not be fixated on getting pure breeds or adopt a dog at the shelter as a way of saving money.
Comments will be moderated. Keep comments relevant to the article. Remarks containing abusive and obscene language, personal attacks of any kind or promotion will be removed and the user banned. Final decision will be at the discretion of the Taipei Times.