FEATURE: Team rescues whales, dolphins
Hung Wan-ju (洪莞茹), a 23-year-old from the Chang Jung Christian University majoring in nursing, says that simple curiosity first drove her to become involved in whale and dolphin rescue.
"Back then [November 2005], I was studying at the university's Department of Nursing. One day, I came across an article on my school's bulletin board saying volunteers were urgently needed to help with the rehabilitation of dolphins," she told the Taipei Times. "I was simply curious ... normally, we can only see them from a distance at ocean parks, but I really wondered what a dolphin's skin would feel like. Since the rehabilitation work included providing physical support for the animal, I decided to apply."
Her curiosity turned into devotion as she became a long-term member of the Taijiang Cetacean Research Team and an active participant in whale and dolphin rescue missions in southern Taiwan.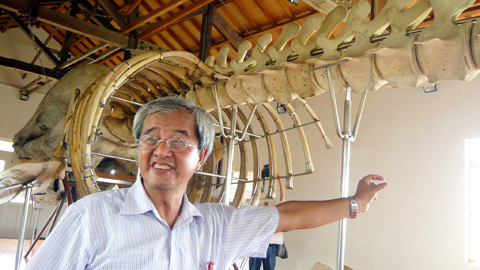 Wang Jiang-ping, a professor at National Cheng Kung University's Department of Life Science, leads a tour through the Taijiang Cetacean Research Team's collection of skeletons of beached whales and dolphins on Oct. 6. Wang was standing in front of the bones of a 50-tonne sperm whale that beached itself in January 2006.
PHOTO: FLORA WANG, TAIPEI TIMES
Since November 2005, she has taken part in six missions, including the rescue of a bottlenose dolphin, or Tursiops truncatus, and a short-finned pilot whale.
"With my background in nursing, I can help arrange medical data or help veterinarians with the rescue work. I can also better describe the conditions of rescued dolphins [and whales] to veterinarians," she said.
Each year, countless volunteers like Hung join the Taijiang Cetacean Research Team in the Sihcao (四草) area of Tainan City.
Founded about a decade ago, the team — a collaboration between National Cheng Kung University, the Taiwan Black Ditch Conservation Society and the Tainan City Government — plays a prominent role in the nation's cetacean rescue efforts.
As an island, Taiwan is blessed with a rich marine ecosystem, but at the same time, whales and dolphins often beach themselves on Taiwanese shores. The coasts in Tainan, Kaohsiung and Pingtung are particularly prone to strandings.
Statistics from the research team showed that 20 percent to 25 percent of the whales and dolphins beached on Taiwan's coastline were found in these areas.
Between 1996 and 2006, 97 incidents — 201 whales and dolphins of 21 different species — were reported in Tainan alone.
"Over the past decade, we have accumulated over 200 pieces of data on stranded whales and dolphins [on Tainan's coast]. Half the stranded mammals were Feresa attenuata [a small-toothed cetacean also known as a pygmy killer whale]," said Wang Jiang-ping (王建平), a professor of life science at Cheng Kung.
The research team's work includes offering medical help and food to beached whales and dolphins.
If the animals die, the team also diagnoses the cause of death, said Wang, who heads the team.
Unlike humans, who can describe their symptoms if they fall ill, dolphins and whales can not tell us what is wrong, Wang said.
"The cetaceans that get stranded usually come with a lot of complications," he said, adding that compiling as much medical data on the stranded mammals as possible helps the team improve its rescue procedure.
However, given the size of the organization — it only has three staff members — the majority of the rescue work depends on volunteers.
Wang said about 40 to 50 volunteers usually come to the Sihcao office and work in shifts, but when the team is on rescue missions, the number of volunteers can increase to as many as 200 people.
Wang said the group was grateful for the support of so many volunteers and the NT$1 million annual budget it receives from the Forestry Bureau.
But even the NT$1 million is not enough to cover the cost of the team.
Wang said he has spent his own research grant on the rescue teams for over a decade.
While Wang's generosity is impressive, he says he has even bigger ambitions.
"I hope to make [the rescue team's experiences] known to the world. Whale and dolphin rescue is an international issue. After all, whales and dolphins in the waters near Taiwan are not the only whales and dolphins in the world that get stranded because of illness," Wang said.
Devoted as the rescue team is, it can only deal with whales or dolphins weighing less than 300kg.
Some of the mammals that do not survive are processed and put on bone display in the team's office.
The exhibition is composed of an impressive collection of 100 sets of whale and dolphin bones, including a 17m, 50-tonne sperm whale that beached itself, died and later exploded in January 2004.
"What I'm trying to do is to make them last forever," he said.
Having housed a collection of cetacean bones, the research team has also become involved in Tainan City's environmental education curriculum.
Students studying in the first to fifth grades in Tainan's elementary schools are required to visit the center to learn about cetaceans once a semester.
"With experiences like this, they will grow up to be animal lovers and will be willing to devote themselves [to animal protection]," Wang said.
Comments will be moderated. Keep comments relevant to the article. Remarks containing abusive and obscene language, personal attacks of any kind or promotion will be removed and the user banned. Final decision will be at the discretion of the Taipei Times.