Japanese 'itasya' gain in popularity in Taiwan
If you happen to see cars or scooters on streets bearing images of cartoons, manga or online computer game characters, it's quite possible that the driver is a fan of itasya (痛車).
Itasya is a Japanese term referring to cars decorated with cartoon or manga images on the outside — a subculture that has been popular in Japan for the past decade.
A fan of Japanese manga and itasya, 28-year-old Liu Chien-liang (劉建良) founded the Taiwan Itasya Culture Promotion Association in February with a few friends.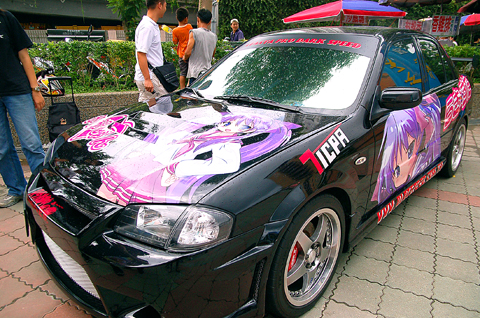 A car belonging to Liu Chien-liang, chairman of the Taiwan Itasya Culture Promotion Association, attracts attention on Sunday at the "Fancy Frontier" cartoon and comic festival at National Taiwan University Sports Center In Taipei.
PHOTO: HSIEH WEN-HUA, TAIPEI TIMES
SEVEN EXAMPLES
At the moment, there are seven itasya in Taipei, Kaohsiung and Tainan, including Liu's own itasya with "Kokagami," a character from the manga Lucky Star on the doors, hood and roof.
It took him three attempts before Liu managed to paste Kokagami's images onto his car.
Liu said that he's very attracted to Kokagami because she looks cold outside, but is actually just shy on the inside.
WHAT'S IN A NAME?
He said it makes him proud when he drives in the car because it makes him the focus on the road.
The term itasya comes from the Japanese word ita (痛), which means "to hurt" or "painful," while sya (車) means "car."
As for why an itasya is called an itasya, Liu said that there are three different explanations.
The first goes that, under Japanese traffic regulations, one has to pay extra fees to put exotic decorations on the outside of a car, and thus it "hurts" to pay the extra money.
The second explanation says that itasya is how the Japanese calls Italian cars, and since they believe Italian cars to be the best decorated ones, the Japanese then chose to call cars decorated with manga characters' pictures itasya.
The third explanation, Liu said, goes that since the rich decorations on itasya are so colorful, they would "hurt" viewers' eyes.
Comments will be moderated. Keep comments relevant to the article. Remarks containing abusive and obscene language, personal attacks of any kind or promotion will be removed and the user banned. Final decision will be at the discretion of the Taipei Times.