Job hunters overwhelm Air Macau
Some 700 applicants showed up at an Air Macau recruitment drive yesterday to fill 15 vacancies for flight attendants.
Air Macau operates 10 flights between Taipei and Macau and four flights between Kaohsiung and Macau on a daily basis, carrying mainly Taiwanese businesspeople based in China.
Air Macau chief executive David Fei (費鴻鈞) commended the applicants as ambitious and well prepared, adding that attitude was the key factor in the selection process.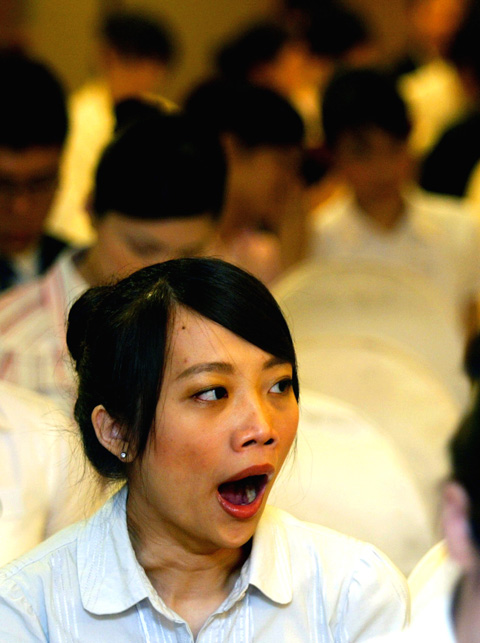 A woman yawns at a recruitment drive for flight attendants at Air Macau's offices in Taipei yesterday.
PHOTO: LIN CHENG-KUN, TAIPEI TIMES
Fei said that Air Macau's flight attendants from Taiwan are the airline's most popular among its passengers.
"I have great confidence in our Taiwanese flight attendants," he said.
One of the applicants, Janet Chen, while waiting in a long line for a preliminary interview, said that she hoped the stewardess job would allow her to become more familiar with social protocols and learn to better interact with people.
"It is the dream of many young women to become a stewardess," Chen said. "If I do not succeed today, I will seek other opportunities to fulfill my dream."
Amid concerns that Air Macau and Hong Kong-based Cathay Pacific Airways and Dragonair would suffer if direct flights are launched between Taiwan and China, Air Macau has been planning for the possible change.
The incoming Chinese Nationalist Party (KMT) government is likely to allow only Taiwanese and Chinese airlines to operate the direct cross-strait route.
Yesterday's recruitment drive was not only a bid to hire more Taiwanese employees, but was also part of the airline's preparations for future developments in the aviation market, said Vickie Shih, general manager of Air Macau's Taiwan office.
"Air Macau's temporary mission of serving Taiwanese businessmen [in China] seems to be ending," Shih said. "The airline will now promote Macau as a destination, rather than just a transit stop."
Air Macau has been authorized to operate more routes between Macau and Japanese cities, which would help bring more Japanese tourists to Macau, she said.
With Air Macau aiming to expand its market and to cope with the possible opening of direct cross-strait flights, it is also looking at the increasing number of Chinese tourists who are showing an interest in visiting Macau as a means of helping to increase the airline's revenues, Shih said.
Comments will be moderated. Keep comments relevant to the article. Remarks containing abusive and obscene language, personal attacks of any kind or promotion will be removed and the user banned. Final decision will be at the discretion of the Taipei Times.