Foreign residents plant trees on Valentine's Day
GROWING ROOTS The government plans to put trees on the equivalent of 800 Da-an Forest Parks, an official said at a seedling-planting event yesterday
On Valentine's Day yesterday, hundreds of foreign residents gathered at National Taiwan Normal University's Linkou (林口) campus in Taipei County to celebrate their love for the Earth by planting seedlings of trees and leaving their roots in Taiwan.
The event, titled "Leave Your Roots in Taiwan," was hosted by the Environmental Protection Administration (EPA) to raise awareness of the strategy of combating global warming by offsetting one's carbon footprint, as well as to encourage foreign residents to see Taiwan as their "home away from home" and cherish its resources, EPA Minister Winston Dang (陳重信) said at the event's opening ceremony.
The term "carbon footprint" refers to the amount of carbon emissions someone or something causes during a given time. For example, traveling 20km in Taipei in a mid-sized sedan emits 4.43kg of carbon dioxide.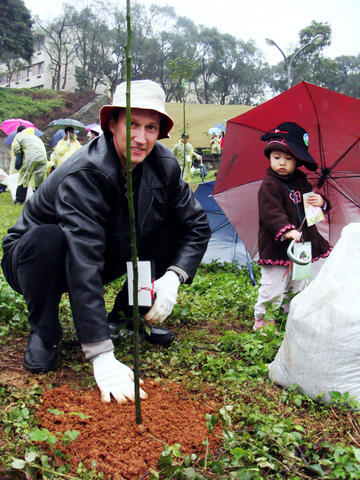 A man plants a tree at an event in Taipei County yesterday. More than 300 people participated in the activity, which was organized by the Environmental Protection Administration.
PHOTO: CHENG SHU-TING, TAIPEI TIMES
"If you drive a Toyota Prius, you may need to plant 15 mahogany trees to offset the carbon you have emitted by driving 15,000km," Dang said.
Emissions of carbon dioxide, a greenhouse gas, is considered to be one of the main culprits behind global warming, a climate phenomenon that is reportedly worsening every year -- the UN's Intergovernmental Panel on Climate Change has estimated that global warming will increase global temperatures by 1.1oC to 6.4oC this century and result in sea levels rising by 18cm to 59cm, Dang said.
"Planting trees on Valentine's Day, a day when love is celebrated, is a gesture to show the government's determination to fight global warming, and it urges all people to love planet Earth," Dang said.
"The Executive Yuan recently passed a NT$7.18 billion [US$225 million] budget to plant 20,000 hectares of trees nationwide within the next five years. That's the equivalent of 800 Da-an Forest Parks, and will bring the island's forest coverage to 59.09 percent," the minister said.
In addition to fighting deforestation, which is responsible for 2 billion tonnes of carbon emissions per year, the EPA aims to take even more aggressive steps to control greenhouse gas emissions. These include reducing emission allowances for power plants and factories, which contribute 61 percent and 21 percent of the nation's total emissions, Dang said.
Among the hundreds of foreign participants who signed up for yesterday's tree planting, many expressed concern about the environment and said they saw fighting climate change as a top international priority.
"I am an environmentalist myself; if something isn't `green,' I don't do it -- I always bring my own chopsticks to restaurants, and I sort the garbage to such an extent in my community that many of the garbage collectors recognize me," said Abdoulie Jallow, a student from Gambia who came to Taiwan to study Chinese.
"Sustainable development is the only way to go. The environment doesn't belong to us; we need to preserve it so that we can pass it down to future generations," Jallow said.
Edward Foord, a former environmental consultant who came to Taiwan to study Chinese, said: "Taiwan's emphasis for the environment is promising. People are starting to realize that they have to be more responsible."
Comments will be moderated. Keep comments relevant to the article. Remarks containing abusive and obscene language, personal attacks of any kind or promotion will be removed and the user banned. Final decision will be at the discretion of the Taipei Times.