Hsieh claims Ma contacted US over green card
Democratic Progressive Party (DPP) presidential candidate Frank (謝長廷) said yesterday that his Chinese Nationalist Party (KMT) rival Ma Ying-jeou (馬英九) recently contacted a US official to sort out whether he has a valid US green card.
Hsieh said that Ma was now seeking help from the US to vindicate the "lies" he told on the green card issue.
"I know for sure Ma reached a US official. Now Ma needs the US to do him a favor. I hope he will not make any promises unfavorable to Taiwan," Hsieh said.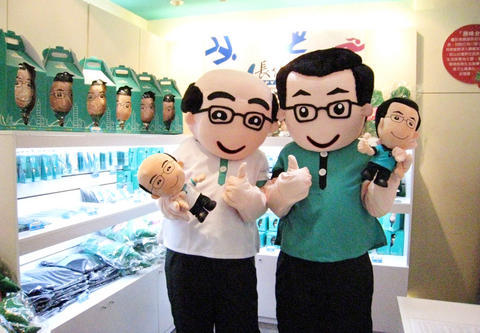 Two shop attendants wear masks of Democratic Progressive Party presidential candidate Frank Hsieh, right, and vice presidential candidate Su Tseng-chang at the opening of a shop that sells their campaign products in Kaohsiung City yesterday. Hsieh yesterday held a press conference where he disclosed what he said was the number of his Chinese Nationalist Party (KMT) rival Ma Ying-jeou's US green card.
PHOTO: CNA
For the fourth day in a row, Hsieh yesterday continued to question Ma's credibility over the green card issue.
As he promised two days ago, Hsieh disclosed the number of Ma's green card at a press conference. He said the information was provided to him by a supporter, and that Ma was granted a card numbered "A XXX30786" on Aug. 26, 1977, in New York.
Hsieh said he had omitted the first three digits of the number to protect the source.
Responding to Ma's statement that both he and his wife's green cards were automatically invalidated a long time ago when they applied for non-immigrant visas when traveling to the US, Hsieh said that was a lie.
"Ma made it up to patch over another lie he had told previously," Hsieh said.
Hsieh was referring to Ma's previous statement that none of his family members held a green card.
STILL VALID
"As far as I know, Ma and his wife's green cards are still valid. They haven't lost permanent resident status in the US. To lose that status requires a very simple formality to be performed, which they never completed," Hsieh said.
Hsieh said there was a US regulation that meant a green card would be taken away -- if a green card holder stays outside of the US for more than 365 days without having obtained a re-entry permit before leaving the country -- as Ma had said.
"But Ma has traveled to the US every year since he returned to Taiwan in 1981 to maintain the validity of his green card," Hsieh said.
Hsieh, however, did not provide any evidence to back that claim. He instead urged Ma to make public his entry and exit record.
When Ma served as former president Chiang Ching-kuo's (蔣經國) secretary in the early 1980s, Ma took official leave every year to either attend conferences or make overseas inspections, taking the opportunity to enter the US to meet the regulations, he said.
In response, Ma's camp yesterday presented copies of Ma's US visas and certificates of entry and exit as confirmation of Ma's claim that he had long ago given up his green card.
Ma spokesmen Luo Chih-chiang (羅智強) and Wang Yu-chi (王郁琦) showed copies of visas from a passport issued to Ma 18 years ago to prove that the American Institute in Taiwan (AIT) had issued non-immigrant visas to Ma on June 29, 1990, and also on four other other occasions before 2006.
Another copy of Ma's entry and exit certificate obtained from the National Immigration Agency showed that Ma did not leave the country between Nov. 27, 1992 and Feb. 8, 1994.
SOLID PROOF
In accordance with US immigration laws, the records, Luo said, provided solid proof that Ma's green card had been invalid for at least 18 years.
"We can confirm that at this very moment, Ma Ying-jeou's green card is invalid. That is a fact," Luo told a press conference at Ma's campaign headquarters yesterday.
Wang further cited the Code of Federal Regulations to rebut Hsieh's allegation that Ma was still a green card holder because he had failed to complete Form I-407 (Abandonment of Lawful Permanent Resident (LPR) Status), which is required in order to surrender the card.
ABANDONED RESIDENCY
The regulations state that if an LPR remains out of the US continuously for more than one year, the Department of Homeland Security takes the view that the residency has been abandoned.
In the eyes of the court, a person may lose LPR status even if they do not renounce their residency by signing an I-407 or have a formal removal hearing to determine abandonment, the regulations state.
Faced with continuous accusations from Hsieh, Ma acknowledged on Monday that he had obtained a green card in 1977 when he was living in the US, but added that the green card was automatically invalidated around 1985 when he applied for a visa at the AIT to travel to the US.
OLD PASSPORTS
When asked why the campaign team had failed to provide copies of Ma's non-immigrant visas before 1990, Luo said the passport was the oldest one they could find, but it did not mean that Ma had not obtained a non-immigrant visa from the US before 1990.
Wang said they were attempting to find Ma's older passports as proof and were also applying to the US for the records of Ma's US visits before 1990.
"We are unable to find information earlier than 1990 right now, but we can prove that Ma's green card has been invalid since 1990," he said.
The camp also provided copies of a non-immigrant visa issued to Ma's wife Chow Mei-chin (周美青) in 1996 to prove that she had also given up her green card.
Luo urged Hsieh to provide solid proof before making further accusations against Ma.
Ma declined to respond to questions on the issue yesterday.
Shen Fa-hui (沈發惠), a Hsieh camp spokesman, called a press conference later yesterday to rebut Ma's claims.
Shen said that the DPP had documents showing that Ma went to Belgium in 1993 that counter the Ma camp's claim that he did not go abroad between 1992 and 1994.
INSINCERE
Responding to the claim that Ma never went to the US using his green card, Shen said "that showed that Ma didn't reveal the fact that he was a US green card holder when he applied for US visas. Clearly, Ma has a problem with sincerity."
Leaving the US for more than a year did not mean that a card would be revoked and the holder would lose his permanent resident status, Shen said.
The US government does not deprive a green card holder of his or her permanent resident status unless a hearing is held, where the green card holder can present proof of why he or she did not enter the country during that period, Shen said.
Comments will be moderated. Keep comments relevant to the article. Remarks containing abusive and obscene language, personal attacks of any kind or promotion will be removed and the user banned. Final decision will be at the discretion of the Taipei Times.