MAC rejects PRC asylum seeker
NOT ON THE BOOKS Whether or not Wu Yalin will be sent to 're-education' through labor in China is beside the point because Taiwan has no asylum law, the council said
Wu Yalin (吳亞林), a Chinese dissident seeking political asylum in Taiwan, yesterday called on the government to reconsider his case after the Mainland Affairs Council (MAC) told him he should leave the country before his visa expires today.
"I wanted to stay in Taiwan, but the MAC told me that Taiwan has no asylum law. I am at a loss for what to do next," Wu told a press conference in Taipei yesterday.
Wu said he fled Chinese authorities who wanted to arrest him for distributing copies of Nine Commentaries on the Communist Party (九評共產黨), a pamphlet published by the Epoch Times, that criticizes party actions and calls on it to stop persecuting the Falun Gong and other dissidents.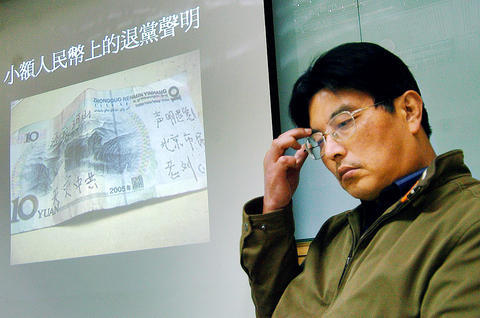 Chinese political dissident Wu Ya lin, who came to Taiwan to seek asylum, speaks at a press conference in Taipei yesterday.
PHOTO: CHEN TSE-MING, TAIPEI TIMES
After Wu arrived in the country as a tourist last Thursday, he met with MAC officials twice to request asylum, but to no avail.
Attorney Tung Wen-hsun (童文薰), who is helping Wu negotiate with the MAC pro bono, lashed out at the government's response.
"I don't see why the MAC is in such a hurry to kick Wu out," she said.
Tung said the absence of an asylum law is an excuse: "Shouldn't the government be more flexible in considering this case, regardless of the law?"
"In November, I was sentenced to three years of re-education through labor for encouraging people to read the pamphlet. A friend of mine with the Public Security Bureau recently told me I should flee. That's why I decided to flee China's brutality," Wu said.
Wu said he was jailed between 1981 and 1990 for criticizing the Chinese Communist Party as undemocratic after a local election in his Sichuan hometown.
Wu entered Taiwan as part of a Chinese tour group from Thailand and contacted the Judicial Reform Foundation the next day to seek political asylum.
MAC Vice Chairman Liu Te-shun (劉德勳) said last Friday that the MAC had no evidence that Wu was wanted by China for distributing the book, but knew that Wu had been jailed for criticizing Chinese authorities.
"As unfair judicial rulings exist in many countries, he should deal with this problem via the legal system in his country. We ask that he leave when his trip finishes [today]," Liu said on Friday.
But Tung dismissed Liu's comments. He said that the MAC refused to give Wu time to prove that he is being persecuted for distributing the Epoch Times pamphlet.
"We know Wu does not qualify for political asylum on the basis of his prior imprisonment, but why can't the MAC wait for Wu to prove he is wanted because of the pamphlet?" Tung asked.
Tung said Wu would apply to extend his visitor's visa today.
Comments will be moderated. Keep comments relevant to the article. Remarks containing abusive and obscene language, personal attacks of any kind or promotion will be removed and the user banned. Final decision will be at the discretion of the Taipei Times.